Understanding the intricacies of email can be difficult. I thought I might demystify some of the basics of it because I get asked these questions so many times a year.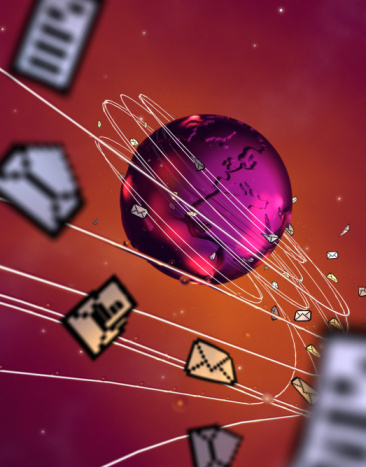 Email comes in various types. There are the online email providers like Yahoo and Hotmail with whom you can set up a free email address and where, so long as you are online, you can read and send email. Generally people who are travelling or do not have a computer of their own, favour online email. You can go to any computer that has internet access and find your email and send email to others.
Most people choose to have personal email organised by some internet or email provider (Xtra, Paradise, Now, Telstra, Clear or some other company (often a telco). You can usually access that email through a webmail service, similar to the online email system in the paragraph above. But, generally people go to their computer and "download" their email from the great computer in the sky. To do that you need a program called by the experts an email client. Email clients are programs like Outlook, or Outlook Express, or Mail or Entourage. These programs (once set up correctly) connect to where your mail is kept and download that mail to your local computer.
The email program needs to have the settings correctly entered. Those settings usually refer to a Protocol – and the part of the program that deals with getting your mail is often called the POP server or the POP3 Server. That stands for Post Office Protocol (version 3). With the settings correct that part of the email program goes and gets your email from where it is kept – something like a Post Office – hence the name.
The great beauty of a POP email program (client) is that once you have downloaded your inbound email to your computer you can access that email even when you are not online (connected to the internet). So one setting of your email will be something like pop.xtra.co.nz or pop3.paradise.net.nz or pop.clear.co.nz or pop.now.net.nz – that little setting contains the word pop, the name of the company that hosts your email and maybe the country you live in (well usually).
As well, you need to be able to send email and that requires a different protocol and a different setting. That setting is referred to as the SMTP (or Simple Mail Transfer Protocol). The settings look like this: smtp.xtra.co.nz or smtp.clear.net.nz. Sometimes a different protocol is used so it might be more like: mail.orcon.net.nz for example. Mail and SMTP are two different protocols. You might think that all this is very complicated or very simple. It gets worse right now. Many providers of internet services want you to be stuck with them. So, generally the SMTP is not just the same as your POP setting. What I mean is, if your internet service provider is Xtra or Paradise or Clear and your email provider is different then you can end up needing two quite different settings. An example will help.
I get my personal email from Paradise, so my email address is abc@paradise.net.nz I get my work email from the Society's email system abc@smnz.org.nz. At Mount Street my internet service provider is Orcon.and at the Province Centre our Internet Service Provider is Xtra.
My settings at home are : receiving personal email pop.paradise.net.nz and for sending: mail.orcon.net.nz At work the settings are: receiving work mail pop.smnz.org.nz and for sending: smtp.xtra.co.nz
What makes this all sensible then is that the internet service provider is for the outbound (or sent) mail and the mail provider is the one for receiving (or inbound) email.
Now just when you were thinking you might understand what was going on I want to admit that there are a whole lot more complicated matters with email settings and protocols.
You may have understood little of this, but it does explain why when you change houses that your email stops working. You don't even want to know the more complex things like ports, IMAP.