Sipiliano Faka'osi, a graduate of Good Shepherd College, Auckland, and a member of the Marist Oceania province was ordained to the priesthood by Bishop Soane Batita Paini Mafi of Tonga. The ceremony took place on December 8 in the packed Cathedral of Nuku'alofa, Tonga.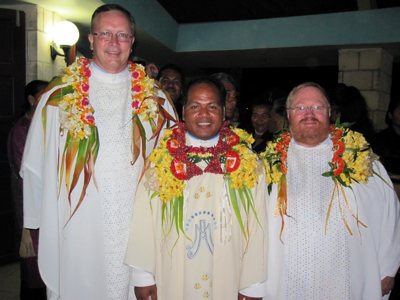 The ordination was a vibrant ceremony with several massed choirs and at least two bands. The sanctuary was swathed in tapa cloth and many celebrants were adorned with lei. Afterwards the celebrations carried on with feasting and dancing. The now Father Sipiliano joined others from his island in several dances, including an intricate stick dance.
Sipiliano was born on an island in the northern most Tongan Niua group. These islands were severely affected by the recent Pacific Tsunami. Sipiliano lost a family member and several were injured. The family later moved to Tongatapu, the main island.
Before entering Pacific Regional Seminary in Suva in 2001 Sipiliano worked in the travel industry in Tonga. After making his novitiate on the island of Taveuni, he was sent to Marist Seminary, Auckland. In 2008 Sipiliano completed his Marist Mission Experience in the parish of Port Orly on the island of Santo in Vanuatu. In 2009 he returned to Marist Seminary to complete his studies.
In 2010 Sipiliano will join the Marist community at St John's College Cawaci in Fiji.
Three other seminarians, another Marist, Toma 'Akino Lakai, and two diocesan seminarians were ordained in the same ceremony.