It's taken two strong earthquakes to move the Marist Fathers from St Mary's Manchester St, Christchurch, but as of February 2012, the Cathedral and St Mary's parishes will be one, and staffed by a diocesan priest.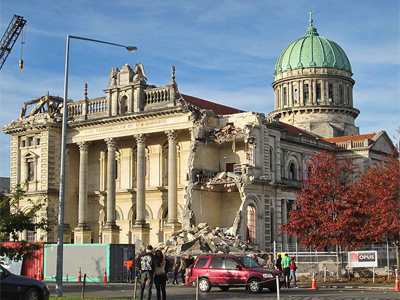 News of the pending move came on Saturday when Vicar General of the Christchurch diocese, Fr Rick Loughnan wrote to the priests of the Christchurch diocese and Marist Provincial, Fr Brian Cummings, advising that the Bishop of Christchurch, Barry Jones intends to suppress both parishes by the beginning of next year and create a new Cathedral parish encompassing St Mary's Manchester Street.
The Cathedral has been closed indefinitely since the September earthquake and any hopes of quickly reusing it were compounded by the extra damage caused by the more powerful February quake.
"Engineers have indicated it is likely the building can be saved", Monsignor Charles Drennan said.
Since the September earthquake, St Mary's Manchester has operated as the Pro Cathedral, and with St Mary's Parish and the Cathedral Parish now worshipping together, Bishop Jones, has asked the two parishes to work together and take the appropriate pastoral initiatives to forge an amalgamated community.
To facilitate this process he has appointed the current Parish Priest of St Mary's, Marist, Fr Bernard Carney, the Administrator of the present Cathedral Parish, and Fr Chris Orr, the assistant priest of the Cathedral Parish, as Assistant Priest of St Mary's Parish. Fr Orr is also appointed as Administrator of St Anne's Woolston and Chaplain to Catholic Cathedral College.
The Bishop has asked that the parish councils and finance committees meet together in order to facilitate the process of amalgamation with a view to appointing a Diocesan priest as Administrator to the new Cathedral parish.
The plan is for the new Cathedral parish to come into effect on 1 February 2012.
The Society of Mary has reassured Bishop Jones it is happy with this plan and have indicated that if it helps the Bishop it is willing to take up another city parish.
"The lines of communication between the Diocese and the Society have been excellent and we have been consulted at all appropriate stages," Marist Provincial, Brian Cummings said.
"In due course later this year, there will be discussion between the Diocese and the Provincial Administration as to where the Marist parochial presence in Christchurch City might be after we leave St Mary's."
The Society of Mary has a long association with the Christchurch Diocese and has staffed St Mary's since 1885.