An icon of Marist founder, Jean-Claude Colin is complete.
The icon was commissioned by the Superior General to coincide with the re-introduction of Jean-Claude's cause and is seen as part of further developing the following that Jean-Claude enjoys.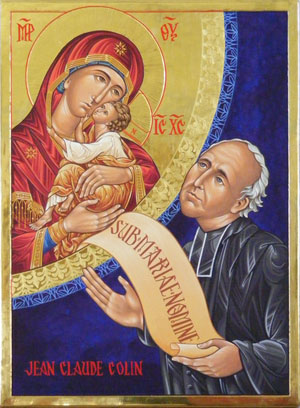 The icon is the work of the John the Baptist art studio, who specialise in sacred art and iconography.
Michael Pervan, the director of the John the Baptist studio said the icon is steeped in Catholic theology and uses colour and shape to explain the relationship of Mary and Christ and the relationship of Mary to Fr Colin and the Church.
The icon was rendered using all natural products including gold leaf, egg yolk, gypsum, and Italian rabbit skin glue.
"Nothing synthetic was used in rendering the icon." he said.
Symbolism within the icon is subtle and deep. Of Fr Colin, Pervan took time to point out that he
does not yet have a halo
is rendered as young and most glorious because he is now forever young
does not have his usual glasses because he is now perfect.
Mr Pervan said the Studio thoroughly researched the commission and to do so embarked on a spiritual journey.
"It was a spiritual home-coming for us," Pervan said.
The icon will be given a place in the chapel of the General House. (Click for photographed copy. 1.1MB JPG formatted image.)