South Westland might have some of New Zealand's most beautiful scenery and one or two mountains to climb, however the territory is rather isolated.
There is just one priest for six parishes and since returning to New Zealand Michael Mahoney accepted the challenge to minister to them all!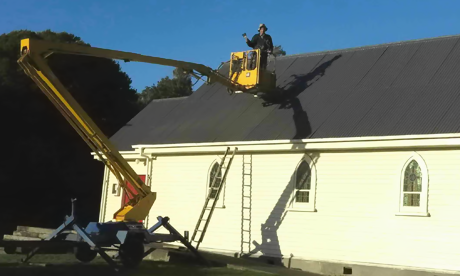 There is also quite a bit of maintenance on the churches, the damp climate is quite challenging.
Not one to be afraid of heights, Michael was using a cherrypicker to paint the roof of the Haast church and at the end of the job, the owner asked him if the parish would like to buy it.
"A new one costs about $20,000 and this one's in good order. We bought it for $3,000 and it's already living in a garage in Whataroa. It'll repay its purchase price many times over", said Michael.
Since returning from Brazil Michael Mahoney has been pastorally active throughout the South Westland region and has been instrumental in establishing the "South Westland Hope Group" which tries to help families who live on the Coast who have difficulty in coping with modern life
The South Westland Hope Group has, for example helped,
families who have unregistered cars to get them up to standard
drivers who have no licence, or whose licence has lapsed, to get a licence
supported young people in the schools who cannot go on a school event for monetary reasons
arranged automatic payments from monthly benefits into the parish account to pay power bills that would otherwise not be paid and result in the power being cut off
organize budget advice and planning so that there is money to pay rent, power and other basic facets of modern living.
To fund these outreaches the group caters for lunches for tourist groups who make an offering of $15 a head for a really good lunch, including local delicacies such as whitebait fritters and pavlova!
People have donated into the fund.
The local Health Clinics and schools have all been circulated regarding this group, Michael Mahoney says, and know that they can call on us if they need to.
According to Michael Mahoney, the underlying motive is the gospel one of concern for the poor and those who find difficulty in coping with modern society and technology.
"The Church used to be a leader in social assistance, but, to my mind, is notably absent from the media radar these days – we only hear of the Salvation Army and Anglican social assistance groups", he said.
Michael Mahoney says the people on the Coast almost nothing of Catholic Social Services, or Caritas, or the other groups that do exist.
"Nothing much was heard of our church during the Christchurch earthquake assistance, even though the diocese did supply a lot of assistance."
"This is a small attempt to help the wider community, not just the Catholic one," said Mahoney.