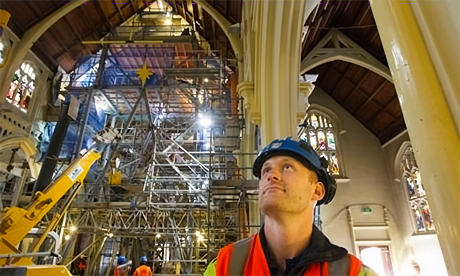 All going well, St Mary of the Angels church in Wellington's inner-city will re-open by Easter 2017.
Parish Priest, Fr Barry Scannell SM, confirmed the date on Thursday.
Talking to Wellington's Dominion Post, Fr Scannell is delighted with the Church's progress and the effort of a lot of people.
"We started the year with nothing and we ended up with around about $7 million," he said.
"That's a great effort by a lot of people and certainly a long way along the road to the $9.5 we need to strengthen this beautiful building."
Currently a construction zone, the inside of the Church looks very un-church like, however once the strengthening is finished it will be hard to notice that anything has been done.
With stained-glass windows a plenty, installing 50 ground anchors, fixing 10 columns, 9 portals and the roof is not easy, however contractors LT McGuinness got creative.
Site foreman Matt Pattinson told the Dominion Post that a massive steel scaffold was created and placed on rail tracks so it could move along the floor of the church, providing a safe environment for workers while propping up the roof.
"It creates a safe zone within the building. In the event of an earthquake, the frame is actually the safest place to be on site. It's been engineered to be stronger than the building itself."
With talk of reinstating Christ Church Cathedral ramping up of lately, those involved with the garden city church had been in the capital to learn more about the St Mary of the Angels strengthening, Pattinson said.
"It's been great to see some interest from Christchurch . . . if you're talking about a safe zone, they'll certainly need it. It's quite extensive work that would be happening there. They've got bits of roof that are caving in. It's a real hazard."
Those wishing to donate to preserve St Mary of the Angels are invited to visit the St Mary of the Angels website for more details.
St Mary of the Angels, staffed by the Marist Fathers is believed to be the world's first neo-Gothic church built using reinforced concrete.
In 2010 the Church was presented with an award at the NZ Concrete Society's annual conference.
Bestowed biennially by the NZCS, the award recognises excellence in the use of concrete in building and civil engineering structures more than 25 years old.
Sources