A sense of expectation is rising amongst young lay Marists around the world as they begin the count down to Dare to Dream; the International young Marist meeting in Lyon, France.
More than 400 from the four branches of the Marist family will attend the 17-23 July event.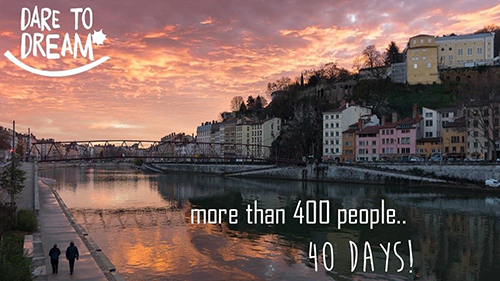 New Zealand's Jen Martinez and Sam Mano will travel over earlier to help organise the final stages of the event.
Jen Martinez says she is looking forward to learning from others and hopes the meeting will inspire and encourage young lay Marists.
Eight young Marists, four from LOGOS, and four teachers from Marist schools in New Zealand will attend.
Fr Alejandro Muñoz SM of the Dare to Dream organising committee said the meeting is to encourage young people to dare to dream, like the group of young Marists did 200 years ago when they signed a pledge at Fourvière to found the Society of Mary.
"Fourvière is a promise that has given us a lot of life and has certainly given a lot of service to the world," said Fr Muñoz.
Fr Muñoz says the Dare to Dream programme aims to
promote the coordination and integration of young Marists
celebrate of the bicentenary of the Pledge of Fourvière
prepare for the bicentenary of the founding of the Institute of the Marist Brothers on 2 January 2017.
According to Fr Muñoz the programme will include an opportunity for the youth of the four Marist branches will visit historical places such as L'Hermitage, La Neylière, Belley and Sainte-Foy.
The gathering will take place in the Marist School of Sainte Marie Lyon – La Solitude, located on the hill of Fourvière with participants staying at the Lycée Aux Lazaristes high school.
This world-wide gathering is a joint initiative of the four religious branches of the Marist Family, and precedes World Youth Day, in Krakow from 26 to 31 July.