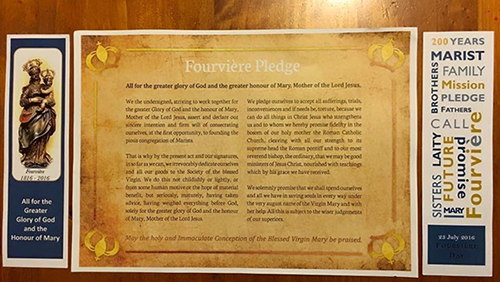 Marists from around New Zealand gathered on Saturday to mark the bicentenary of signing the pledge at Fourviere.
The occasion brought the family together: Marist Laity, Marist Sisters, SMSM Sisters, Marist Brothers and Marist Fathers, all whom gathered in Whangarei, Auckland, Taradale, Wellington and Christchurch.
The format throughout followed a similar pattern; prayer, reflection and a meal.
Auckland
A highlight of the Auckland celebrations was the celebration of mass presided by Marist Fathers' provincial Fr David Kennerley, who also preached.
A keynote address by Dr Justin Taylor SM had been given in the morning and workshops on a range of topics occupied the 'post-festive lunch' afternoon.
Wellington
It was a full house at the Pa Maria spirituality centre, Wellington where the theme was "Fourviere in the Year of Mercy".
Those coming to the Wellington event were asked to bring a gift of school material for refugee children and such was the generosity that a huge collection of about eight heavy banana boxes were delivered to the archdiocese's "Mountain of Mercy" effort.
The Wellington gathering also had the pleasure of listening to presentations from representatives of all branches of the Society.
Hawkes Bay
Around 80 gathered at St Mary's Taradale for mass, meal and a visual presentation. Damian Caccioppoli presided at the mass and John Mori preached the homily.
Christchurch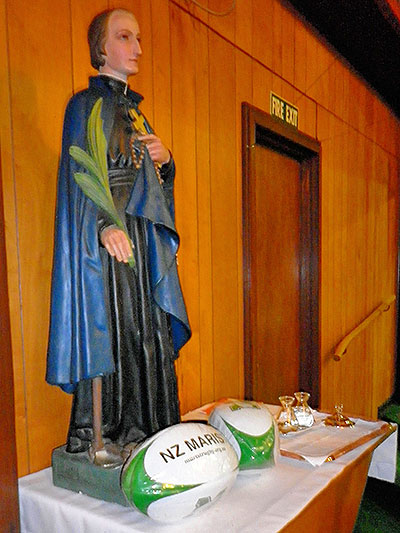 According to a Christchurch report, "in the near Antipodes of Fourviere", the eldest Third Order member in New Zealand, Mrs Ngaire Mahoney, mother of Michael Mahoney SM, held the taper lighting the mass candle.
Hymns for the mass reflected the Marist origins and today. They were in Latin, French, Māori and English.
Further inculturating the commemoration, during Fr John Craddock's homily two rugby balls, professionally branded "NZ Marist" along with a silver fern and green trimmings, were laid at the foot of St Peter Chanel's statue.
The 300 strong 'crowd' applauded the "try"!
The rugby balls were gifted to a Wallisian sister for the Futuna Island; where Peter Chanel shed his blood for the Marist project, and the students of Catholic Cathedral College who were well represented at the celebrations.
Whangarei
While some from the North traveled to Auckland, around 20 Marists from Whangarei and Okaihau gathered on Sunday evening for prayer, a meal and some social time.
Sources
Information for this account was submitted by people from around New Zealand. It is sometimes hard to get information on a Monday so there maybe more to come. It can be easily added.
Many thanks to the photographers, Rowan Donoghue, Merv Duffy, Terry Manning, Marie Challacombe and those whom have yet to be identified.