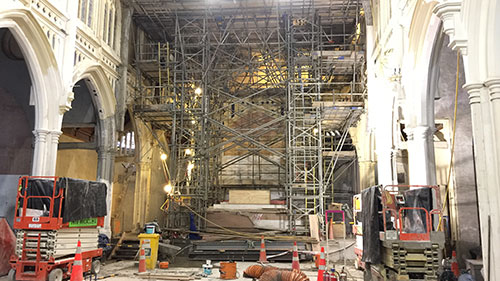 Fr Barry Scannell, Parish priest of St Mary of the Angels, Sunday 30 October, gave parishioners a progress report on the seismic strengthening of the iconic inner-city church.
Work on the seismic strengthening began on St Patrick's Day in 2015 and over the last 18 months the project has consumed 30,000 hours on
Completely new ground beam foundations running the length of the church
47 ground anchors throughout the nave to tie the new foundations to bedrock
32 further anchors to anchor the towers
Replacement of 10 ornate columns
Replacement of the main portals
New shear walls at the end of the Church
New steel cross bracing above the existing ceiling lining
New gutters behind the parapets in the roof
Build new foundations under the two towers.
Currently 40 tradespeople are on site.
As at 30 September, the total amount raised or committed to the project is $8.7 million.
The work ahead
To complete the task the church requires a further $1.3 million in order to
complete the structural work including

1200 sq meters of new roof
370 sq meters of sprayed concrete walls on the side chapels
50 tonnes of structural beams and braces
500 sq meters of new flooring and
100 LED lights

reinstate the Maxwell Fernie Organ
remedy the drainage problem in the Crypt and Choir Room
reinstate the vestry and sacristy
repair and reinstate 14 stained glass windows in seismic frames
reinstate the gardens and laws.
Speaking to parishioners at Mass, Fr Scannell expressed considerable gratitude for the generous donations received from individuals, family trusts, charitable foundations, the Lotteries Commission and Wellington City Council.
"Your generous support is allowing work to continue uninterrupted.
"If the generousity continues we will finish work in time to celebrate the 2017 Easter liturgies in the church", he told parishioners.
Fr Scannell also expressed his thanks to the project's patrons: Right Honourable Jim Bolger, Sir David Carruthers, Sir Anand Satyanand, Sir John Todd (RIP) and Dame Beverley Wakem.
St Mary of the Angels was closed following the earthquakes on Sunday 21 July 2013.
While the earthquakes did not damage the church, subsequently, engineers discovered the building was 15-20% of the New Building Standard.
After considering several strengthening concepts, mid 2014 it was decided to settle on one that retains the Church's integrity and strengthens it to be as close as possible to 100% of the New Building Standard.
Donate at www.smoa.org.nz