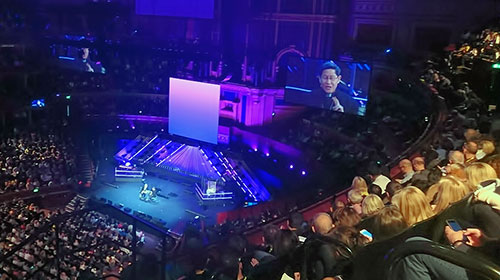 A change in city centre ministry could be on the cards for Wellington's St Mary of the Angels parish.
The possible additions to the current outreach at the newly earthquake strengthened Church, are the result of an Alpha Leadership Course and meeting of Marist centre city ministers held recently in London.
The changes are floated by a member of the St Mary of the Angels staff, Fr Kevin Conroy, who attended the early May leadership conference, along with 6,000 people from all denominations.
"Could St Mary of the Angels Parish, through Alpha Catholic courses, alternative liturgy styles, and focussed intercessory prayer by a core group of the parish, reach out to more people in Wellington?" asks Fr Conroy by way of reflection.
Energy and hope
Fr Conroy described being with thousands of mainly young and passionate about being christian, as giving him "energy and hope".
Labelling the conference input as "high quality", Fr Conroy said for him Cardinal Tagle and Jean Vanier were the standout speakers
"They moved me by their simplicity, joy and wisdom", he reflected.
Fr Conroy said Cardinal Tagle described a church leader 'as someone needing a compelling vision,' and who, on a practical level, has the opportunity to 'model their vision when they meet people.'
Developing the Cardinal's observation, Fr Conroy quotes him: "Often people come with dilemmas rather than problems to be solved, and a good leader helps a person find meaning rather than give a solution".
Fr Conroy summed up Jean Vanier's definition of leadership as simply, "helping people to grow in their humanity by listening well to them".
Among a wide range of input British TV star Miranda Hart was also interviewed and spoke about facing her 'inner critic".
Other speakers addressed a range of topics including
creativity
shame
reformation in the church
releasing exceptional leaders
culture
social transformation and
leaders on balance.
Marist City Centre Churches Network
20 Marist participants in the Marist City Centre Churches Network came from Wellington, Sydney, San Francisco, London, Passau, Rome and Mexico City to the Alpha Leadership Conference and afterwards to work together and process their findings.
This meeting followed on from the inaugural San Francisco Marist meeting in August 2015.
Alpha endorsed
The Alpha conference was endorsed by several high profile Catholics including Cardinal Christoph Schonburn and Preacher to the Papal Household, Fr Raniero Cantalamessa.
In an interview Cardinal Schonburn says Alpha helps us to be less afraid in bringing people to Jesus; it brings us joy.
From a parish perspective a user of the programme, Franciscan priest Don Francesco Bonucci, says "the Alpha programme has the ability to transform the parish."