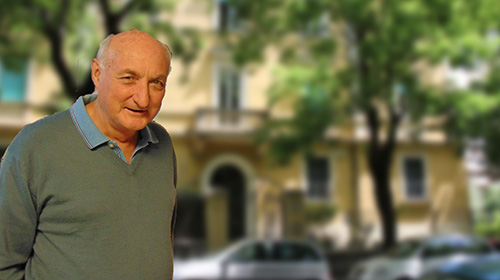 Fr John Larsen SM, Saturday evening, was elected superior general of the Society of Mary.
A member of the district of Asia, and on loan to the international formation programme and succeeds Fr John Hannan.
John Larsen is the first non-European to hold the position in 24 years.
Spending most of his Marist life in Asia, ministering in the Philippines, Myanmar and Thailand, John Larsen has been involved in parish ministry, prison chaplaincy, retreat work, education – formal and non-formal – programs, health care for HIV/Aids, migrant ministry as well as leadership and formation.
He is a former district superior of the Philippines and primarily responsible for establishing the Marist Mision in Ranong, Southern Thailand.
Profound influence on Burmese migrants
Current district superior of Asia, Fr Pat Devlin, who worked alongside John Larsen in the Philippines, says he is delighted with the election.
"I believe he will bring energy and vision to the leadership".
"He will be a blessing for the Society as he is a spiritual man with a broad vision combined with an interest and care for individuals especially those in great need", Pat Devlin said.
Fr Frank Bird from the Marist mission says John Larsen's influence on Burmese migrants in Ranong has been profound.
"Some HIV AIDS Patients and others still have a photo of Fr John in their homes alongside an image of Buddha.
"I think they recognise a Holy Man of great compassion.
"They remember his love, his breadth of vision, his personal and loving style of leadership that was also not afraid of the challenges involved in migrant border crossing town with its many difficulties", said Frank Bird
Frank Bird says he has never forgotten visiting people with John Larsen as he did his daily visits to sick HIV migrants. and recalls this story.
He recalls this story.
"Approaching their home, he looked carefully around to see if any police were following that could endanger them.
"He pushed open a bit of corrugated iron to reveal a dirt pathway to an abandoned building; it was an area beside and above a dirty river.
"Next, going under the building and up some stairs; we came across a number of families and children who were obviously happy to see him.
"He walked among them as a friend," said Frank Bird.
Bold move, an answer to prayer
Writing to the New Zealand province, Provincial Fr David Kennerley called the election a bold turning and an answer to prayer.
He says John Larsen's election continues the theme, "time to look outwards", first highlighted by retiring superior general, John Hannan.
A change to Canon Law means John Larsen assumes the role immediately.
Before coming to the General Chapter, John Hannan and his council vacated the General House.
John Larsen entered in Mount St Mary's Seminary, Hawkes Bay New Zealand, in 1974.
After ordination in 1981, he taught for five years at St Patrick's College, Silverstream, during which time he volunteered for the foreign missions.
As well as the experience of mission in developing countries, John Larsen has been involved in the formation of Marist priests and occupied the position of novice master, and formator both in philosophy and theology houses in the Philippines.
His most recent appointment is Rector of the Marist International Theologate in Rome.