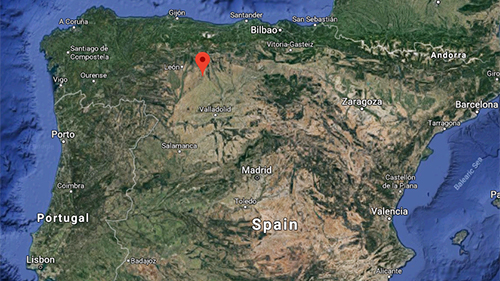 The Marist Fathers and Brothers in Europe, April 22, lauched the "Sahagún Project," a Hostel for pilgrims on the Way of St James, the Camino de Santiago de Compostela.
The hostel or albergue is a place where those walking the pilgrimage can stop for a night, recover and share their experience of the Camino.
Located in Sahagún, an isolated town, it is geographically half way between the French border and Compostella in the French Way.
Although not yet high season, initial reports indicate the hostel is already being well used.
Records show between 20-30 pilgrims stay each night.
In 2016, 176,000 pilgrims received a Compostela certificate of completion from the pilgrims' office in Santiago.
The formal structure of the Marist hostel is simple, involving,
Pilgrim's coffee: At 5pm pilgrims gathers and chat over a cup of coffee or tea.
Mass and blessing: Mass is celebrated at 6:30pm each evening in different languages.
Communal dinner: Pilgrims are invited to share food and life with other pilgrims at 8:00pm.
The Europe province calls the initiative an "exciting act of faith" and a sign it is working more creatively beyond national boundaries to meet the needs of international pilgrims on the Camino de Santiago de Compostela.
The team comprises three of Europe's youngest Marist priests, Frs Andrea Volonnino, Daniel Fernándes and Toño Fernándes.
Facilities
Formally part of the Santa Cruz monastery of the Benedictine mothers, the Albergue has 50 beds of various configurations available on any given night
7 rooms with 4 bunk beds
1 room with 6 bunk beds
8 rooms with 2 beds: possibility of double/single rooms.
In addition it offers a
sitting room to chat, sit and rest
large dining room where each evening the Marist community and pilgrims share dinner, and in the morning, have breakfast before beginning the next leg of their pilgrimage
courtyard with clothes lines and laundry and where pilgrims relax
a washing machine
basic kitchen with ceramic stove and fridge
beautiful chapel.
Feedback
Open only for a few days, initial feedback on the Camino de Santiago forum is very positive.
Biarritzdon says:
"Here is my shameless salute to the newly opened Benedictine Monastery in Sahagun.
"I hope it will become a "must to" stop like Granon.
"It is clean and welcoming, there are plenty of beds in dorms and private rooms, the Dia across the street allows pilgrims to buy and share salads, roasted chicken, empanadas and an assortment of wine.
"The Marist priests are engaging and mult-lingual and the pilgrims mass before dinner is a real treat.
"A great stop at the mid-point, not to be missed."
Bala says:
"It is a very special place. I stayed there in April, just a few weeks after they opened, and my thoughts were the same as @biarritzdon, this may well become one of those special spots to be sought out.
"The warm, friendly welcome from the priest who greeted me made me feel immediately at home.
The lovely historic facilities, the stunning church where mass is celebrated, and most of all the conversations, laughter, and fellowship at dinner and in the big living room for "coffee hour" with the priests and other pilgrims are treasured memories."
Bernard Boisseau SM in EuroInfo writes:
"What a delight it was to witness the start of this Marist community which will welcome many pilgrims mirroring the 'peripheries' of our world: Christians on the margins of the Church, seekers for God."
Sources