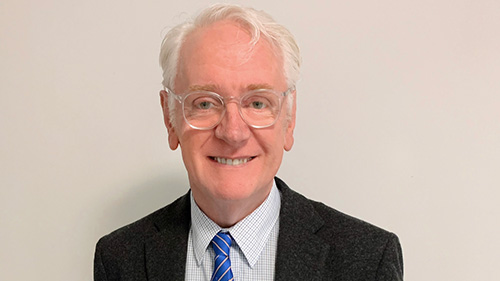 Marists in New Zealand have elected Fr Tim Duckworth SM as their new Provincial superior.
His term commences early 2020.
Asked about future directions for the Society of Mary in New Zealand, Tim recognises the challenging times to be in leadership in the Church and acknowledges the faith New Zealand Marists expressed in choosing him for this role.
"Society and the Church face a rapidly changing future and the Marist charism is well suited to these challenging times."
"Our focus will be on spreading Jesus' gospel, of justice and charity with mercy and reconciliation, and doing so as Mary – Jesus' first disciple – did," Tim Duckworth said.
Tim has been ordained for 37 years and served the Society of Mary and the Church in a wide variety of ministries and apostolates.
Teaching at St Patrick's Silverstream, St John's Hastings and St Bede's Christchurch took up his earlier years of priesthood.
Since then Tim has worked with religious orders as facilitator at chapters and assemblies, with dioceses, for not-for-profit organisations as well as in commercial enterprises. He has also served on the St Bede's, St Patrick's Wellington, Hato Paora College Feilding, St John's College Hastings boards, and on the Good Shepherd College Senate in Auckland.
In the main Tim has been part of the Society of Mary's New Zealand Provincial Council since 1997 and was Vicar Provincial from 2002 to 2004, a role he returned to 2016.
Currently, he also has duties as Provincial Bursar, and in 2018 was appointed by the Superior General of the Society to its international General Finance Committee.
Crisis management and experience in professional standards have also been part of his ministry.
After a sabbatical year in 2005, Tim resumed his ministry in facilitation and supervision and worked on special projects for the New Zealand Province in 2006.  These projects included the reconfiguration working party, Youth Ministry and the reorganising of the Logos Project for young people.
Tim has a number of educational qualifications: a Baccalaureate in Theology, LTCL in speech, a BA in Psychology and Zoology, a Diploma in Teaching and a Masters in Organisation Development from Loyola in Chicago.
He will be supported by a council of: Frs Pat Breeze, Kevin Mowbray, Thige O'Leary and Kevin Conroy.
He succeeds David Kennerley SM, who will have served two 3-year terms as Provincial.