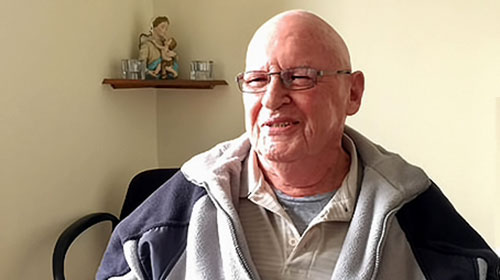 On the 60th anniversary of his religious profession, Tuesday, Br Ed Jones, renewed his Marist vows in the Marist Newtown community chapel.
Surrounded by Marists, the occasion was prayerful and also gave those who had lived and worked with Ed the opportunity to share.
Dinner, conviviality and more stories followed.
February 2015 Ed entered the hospital wing of Te Hopai however illness has not kept him down, and always up for a chat, he quickly became liked by the Te Hopai staff.
Periodically, rooms at Te Hopai are vacated, and at the initiative of the staff, Br Ed is asked to bless these rooms before their being returned to use.
Blessing rooms however is only one 'string to his bow' and, for example, among his other outreaches from hospital, Ed, through his contacts, arranged for the safe hospitalisation of a Catholic woman in Pakistan and is currently working to help a couple get married in the Church.
Ad multos annos.