The last day of the 2009 General Chapter began with a final address, delivered by the Superior General, Fr John Hannan. The Chapter was then declared closed by the President of the Chapter, Fr Jan Hulshof.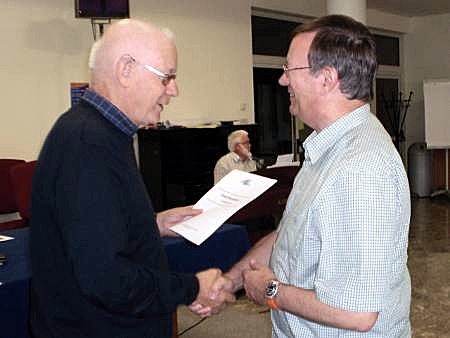 Following the official ceremonies, the capitulants and ancillary staff celebrated the Eucharist. Fr John Hannan presided and the members of the new General Council concelebrated. After packing up, the capitulants will enjoy a special dinner in the evening to celebrate the conclusion of the Chapter.
The capitulants released this statement at the end of the Chapter.
At the finish of this 28th General Chapter of the Society of Mary, rejoicing in being Marists, we give thanks for the grace of the Chapter which is an event of the whole Society.
We recognize the beauty of Mary's little Society and its many positive aspects, and we acknowledge with some pain its present weaknesses and difficulties. We have tried to discern the way forward through our prayer and mutual exchange. We recognize the urgency for change especially in the ways set out in the chapter documents which touch on many aspects of our life.
We make a call to all to embrace wholeheartedly our Marist identity so that as one body we can faithfully fulfil our apostolic mission of building a new church in the spirit of Mary. This is a call to the heart and mind of each Marist to take up and live more authentically our Constitutions and to begin with freshness to live the full- ness of our vocation with confidence in God and Mary.
Let us dare to "Sing a New Song".