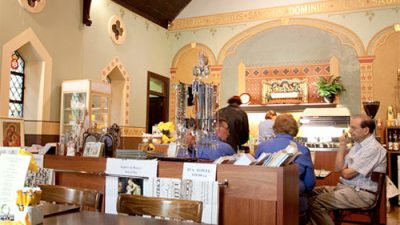 The first Marist contact with Australia came in 1837. Using Sydney as a supply base to support their efforts in missions throughout the vast South Pacific, the early members of the Society of Mary were based in various places around Sydney until they took up permanent residence at Villa Maria, Hunters Hill in 1847.
The Australian community was part of the Pacific missions province (Oceania) until 1926 and then part of the New Zealand province.
In 1938 the province of Australia was established.
The provincial superior lived at St Patrick's, Church Hill in Sydney until 1966, after which the provincial headquarters were moved to Hunters Hill.
At the beginning of the 1950's, a number of Marists from Australia went to Japan to assist in post-war reconstruction, and to establish a mission. Today the mission is more outreaching and managed by the Marist Mission Centre.
The province's wider outreach is also expressed through the Fullness of Life Centre, based in Perth.
Using secure video communication, the Fullness of Life Centre offers Spritiual accompaniment, the opportunity for retreats and professional supervision.
These outreaches aside, the Society of Mary in Australia is probably most known for its parish ministry at St Patrick's Church, Church Hill, in Sydney's The Rocks area.
Located in downtown just off George St, Sydney, Australia, and with a history dating back to the beginnings of the Catholic church in Australia, St Patrick's Church Hill continues to serve the multinational community of Sydney and beyond.
Mass at St Patrick's Church Hill is celebrated ten times on Sunday, almost on the hour from 7am! On weekdays Mass is only celebrated on five occasions.
As well as Mass, reconciliation is another constant.
Today eighty-seven Fathers and Brothers belong to the province.