Eighteen Marists attended a Hui with Danny Karatea-Goddard, Maru Karatea-Goddard, Fr Simon Story and Pa Henere Tate, to discuss "Maori, Marists and the Church."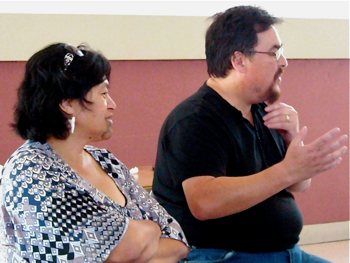 A focus of the day was a paper by Danny Karatea-Goddard, assistant to Bishop Peter Cullinane of Palmerston North diocese and his wife Maru, on Being Maori, Being Catholic. Pastoral Considerations.
The paper highlighted that early-on there were good relationships with the Marists and the Church. It also noted with sadness that as a result of the turbulent times around 1850, by 1870 Maori felt abandoned.
"With one or two exceptions Maori still feel abandoned today," Danny and Maru said.
Developing the idea further they commented, that "This disconnection of Maori. Marists and the Catholic Church also paralleled the disconnection of Maori from their culture."
Looking to the future, "Being Maori, Being Catholic. Pastoral Consideration" drew on:
Luke 13, the parable of the tree, the gardener and the need cultivation,
the proverb 'Titiro whakamuri, kia anga whakamua',  (The Future is behind us, study the past to live well in the future),
the history of Pompallier and the early Marists,
and sought the co-operation of the Society of Mary in order that Maori can see they have a clear place in the Church.
Summarising the characteristics of Maori communities and how they have been caught up in local economic and cultural trends to the point where Maori are now globally diverse, Danny and Maru said that in order to see that Maori have a clear place in the Church there was a need to navigate being Maori and being Catholic.
Outlining aspects of a Maori renaissance with Kura kaupapa schools, Maori TV, radio, lawyers, doctors and a large revival in speaking te reo Maori, they made it very clear how formative Maori language is a key ingredient of who Maori are. "The Catholic Church is slow to embrace te reo Maori" they said.
They asked us to pray for translation work of the new missal in te reo Maori.
The Hui took place on St Patrick's Day, March 17, 2010 at Manurewa Parish.