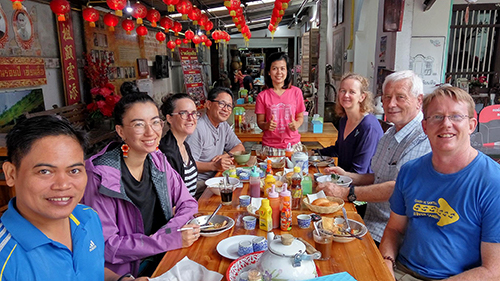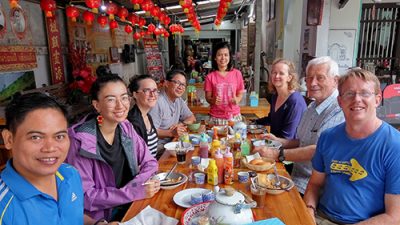 Brother Denis O'Brien, arrived Monday, in Ranong, Thailand to join the Marist Mission team.
He was welcomed at a breakfast with the volunteers Tuesday morning at one of the oldest houses in Ranong.
A 70 year old, Br Denis celebrates his 50th Jubilee of Marist Religious life this year. He plans a two year period of mission in Ranong.
In New Zealand, Br Denis' primary ministry has been in Māori Pastoral Care, and most recently he worked in Otara, Auckland.
The Marist Mission Ranong, officially called the Marist Asia Foundation responds to the education, health and migrant worker needs of the Burmese community living in Ranong including
Education for over 200 Burmese migrant children.
An HIV AIDS community-based health project for 75 individuals and their families.
Support programmes for hundreds of Burmese migrant workers.
The Marist Asia Foundation also works with Thai government authorities, other non-governmental organisations and the local Thai and Burmese community.
Ranong is a fishing village in the South of Thailand, located opposite the southernmost town of Burma/Myanmar.
This makes it a significant border crossing town.
The latest estimates suggest Ranong has up to 120,000 Burmese migrants, most of whom work in the fishing industry.
Along with a number of Thai, Burmese and international volunteers, Br Denis joins fellow Marists, Fathers Frank Bird, Gil Casio and Hermes Sabud in the mission.
Source: CathNews