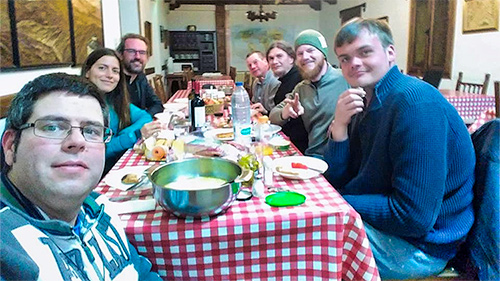 The Marist Albergue Santa Cruz in Sahagun, October 31, closed its doors uncertain if it will open next season.
During summer, health inspectors discovered significant work is required at the hostel to provide suitable drinking water for pilgrims on the way of St James, the Camino de Santiago de Compostela.
Having looked at various options the only possibility is to replace all the iron water supply pipes with brand new plumbing or close down, reports Rebekah Scott on Peaceable Blogs.
Estimates have the water pipe replacement costing €20,000.
The Marist Fathers rent the building from the Benedictine Sisters who depend on the rent to meet their expenses and fulfil their vow of hospitality.
Their ageing congregation cannot live on their cookie-baking business alone.
Scott asked Marist, Fr Daniel Fernandez if €20,000 were raised, whether the albergue would reopen its doors in the northern spring.
"Sure", he said.
"And we could start as soon as possible".
Scott is delighted to report Peaceable Projects has contributed  €10,000; proceeds from an estate.
She is very keen to receive donations for the other €10,000.
Marist Albergue Santa Cruz in Sahagun
The project allows Marists to welcome pilgrims engaging in the Camino who are on their way to the tomb of St James.
The albergue welcomes pilgrims from noon until 8 pm daily.
The simple daily schedule includes
5 pm gathering for a chat over a cup of tea or coffee
6:30 pm Eucharist
Communal dinner where pilgrims are invited to contribute some food to share and continue the chat.
Launching the albergue in 2018, the Marist Fathers described it as "an exciting leap of faith", and in 2019 the Marist albergue reports that almost 4,000 pilgrims stayed.
The suggested donation is just €5 per night.
Visitor's comments
One pilgrim who stayed is Michael Burns, an English teacher at the Marist School in Atlanta, Georgia.
"As soon as I walked in the door wearing my "Marist XC" T-shirt and said in Spanish, "Hola, min ombre es Michael. Soy americano y Marista", I was greeted like a friend", he writes.
"I soon saw how the other pilgrims were greeted as they entered. Everyone got the VIP treatment.
He says that on this occasion there were pilgrims from Spain, Alaska, France, China, South Korea, Poland and England.
"We went around the circle, sharing our stories.
"Some were heart-wrenching, such as the young Spanish woman who was walking the Camino in memory of her recently deceased father who had not finished the whole journey before his death.
"Some shared stories of just looking for adventure or the chance to get away from the craziness of daily life and to enjoy the simplicity of Camino life.
"Others told stories of overcoming horrible pain and blisters yet remaining determined to make it to Santiago.
"A young Chinese woman told in a hesitant voice about being a Christian missionary in China, a country not often hospitable to religion.
"We were all strangers, yet there was an openness of spirit and a shared sense of camaraderie among us".
Mass followed with around 25 people attending; each pilgrim receiving a blessing.
"Once again, I felt special. We all did", he writes.
Burns described the supper as "plentiful and eclectic", it had cheeses, cured meats, quiches, a casserole, homemade fries, baked carrots and broccoli, a salad, bread and some fantastic Spanish wine.
The following morning he departed and wished "Buen Camino" to the other pilgrims.
"These guys are doing it right.
"The Camino and the world need more places like the Marist albergue.
Sources