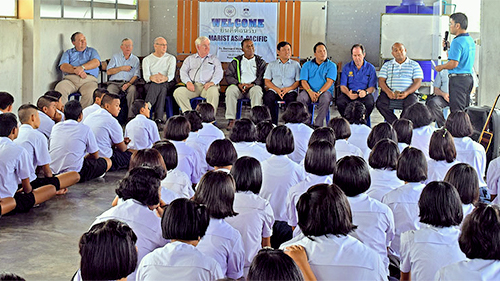 Marist Unit leaders and deputies from Asia, Australia, New Zealand and Oceania, MAP, met June 19 -21 in Ranong, Southern Thailand.
Some of the matters under consideration included studies, ongoing formation, standardisation of agreements for contracts between each unit, professional standards and finance.
Looking forward, the meeting considered issues such as, ecology and a possible new community working with migrants and education.
The annual meeting of MAP leaders works in a fraternal and collaborative way helping build relationships of trust, support and encouragement.
The yearly event rotates between MAP Marist Units and is an opportunity for each Unit to report on mission progress and discuss further collaboration in the South Pacific and Asia.
While in Ranong, MAP participants took the opportunity to visit the Marist Asia Foundation school in Ranong and the work the Foundation does in HIV-Aids care.
Fr Ben McKenna from the Society of Mary General Administration in Rome was also present.
Image: Marist Fathers Australia