One for the blokes, a programme about mens health, sees the presenting team Fr Peter Roe, Michael Scott, Trish Knight and Phil Becker receiving the "Special Judges" award at the 20th annual New Zealand Workplace Health and Safety Awards.
The award comes in recognition of a workshop designed to raise awareness of health issues facing men and providing positive strategies dealing with them.
One for the blokes, it is a two-hour session that creates a comfortable and down to earth space for men to discuss what happens in their bodies and brains when they get a bit 'bogged down'.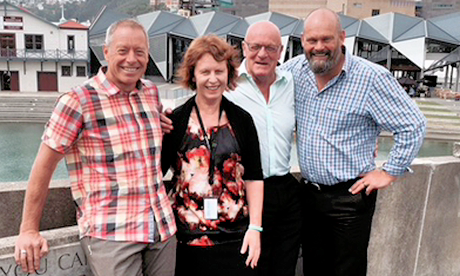 The first couple of sessions saw mostly women attending, writes Trish Knight in Safeguard, the OSH Solutions online publication!
However, she continues, the women went back to their offices and told the guys to go as "the workshop was brilliant!"
More than 600 'blokes' have now attended the workshops.
Promoting the workshop, the Mental Health Foundation says "When it comes to discussing emotional, mental and social wellbeing, it's not always easy being male".
In an article on its website the Foundation calls using the programme "a no brainer" and "a great example of keeping staff well".
One for the blokes is offered by Wellington and Christchurch City councils; as well as a number of Wellington businesses and service organisations.
Promoting the next workshop in Christchurch on 30 June, the City Council describes them as "free, practical, 'non-PC' workshops full of stories, advice, tips and tools to help guys manage depression".
One for the blokes also caught the eye of Neil Sorensen, General Manager of New Zealand Rugby and will soon be offered throughout the organisation.
"The session was without doubt the most important workshop that I've attended in years," said Mr Sorensen.
Describing the session as "brutally honest", Mr Sorensen says the workshop "strikes at the heart of what it means to be a Kiwi male."
Peter Roe is a Marist priest and director of Wellintown, a centre for growth and reflection in the heart of Wellington.
He along with Michael Scott (General Manager Wellington City Council), Trish Knight (Manager, Staff Wellness Victoria University Wellington) and Phil Becker (Senior Manager Wellington City Council) will receive the award on 25 May at the Sky City Convention Centre, Auckland.