After more than 20 years working for community services Jeff Drane has been named a Wellington Community Champion.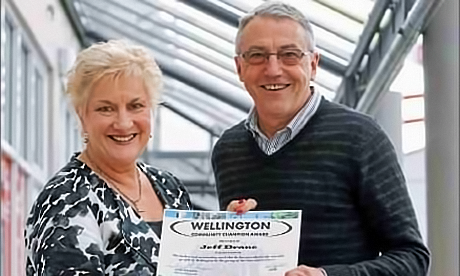 Fr Drane is perhaps best known for his work with the Newtown Budgeting and Advice Services.
The work specialised in assisting under-resourced families, mental health consumers, refugees and migrants and delivered ongoing benefits to families.
"It was just the relief of having enough money for rent so they could afford to go to the doctor", he said.
"Because they were healthier, (children) were able to achieve better at school."
Jeff Drane also
helped set up the Strathmore Community Base, which offered an after-school care programme, health services and community events
provided workshops for schools
health and community services as part of Network Waitangi
worked with the Wellington High School community education advisory board
chaired the Wellington Women's Supported Accommodation, and
is a promoter and member of the living wage movement.
Reflecting back, he said that emphasising the partnership with Māori and the importance of the Treaty of Waitangi met with a lot of resistance.
But, he said,  "it did a hell of a lot of good".
Presenting Jeff with his award, Rongotai MP Annette King said she was inspired by Jeff Drane's compassion and ability to relate to people during his many years of assisting families.
"It's a hard job because you're dealing with people in crisis," she said.
But for Jeff, it wasn't like work at all.
"If you love what you're doing you never really have to work because it doesn't feel like work", he said.
"I was of somewhat useful assistance to so many people.
"I loved going to work in the morning."
Jeff Drane is currently part of the Wellintown team.
He focuses on facilitation that is creative, motivating and empowering and rather than seeking short-term solutions, he helps organisations chart their own authentic direction and discover new growth.
Source