On Wednesday afternoon, 8 Marist Challenge 2000 Gap year students who have recently returned from their month-long pastoral placements, reported back to their friend and colleagues gathered at Pa Maria in Wellington.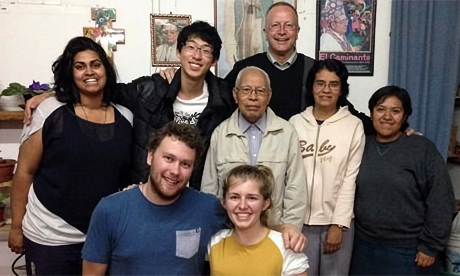 This year the 'Gappies' went to a variety of placements around New Zealand and overseas. They were sent to the far north of Aotearoa New Zealand to the Hokianga, down to the far south of Dunedin, Hawke's Bay and to Samoa and Mexico.
The Gap students all left the familiar and ventured into the unknown. All of them experienced different cultures and languages, and different ways of living.
The placements included assisting at primary and secondary schools, disability services, rest homes, religious communities, and other community agencies.
These placements presented opportunities for developing new skills and learning new things, meeting new people, experiencing different charisms which exist in our faith communities, utilising their own talents and finding out more about themselves.
During the students' presentations about their pastoral placements each student reflected on the impact that their placements have had on each of their lives, and how it helped them to develop mentally, emotionally, spiritually and holistically.
They spoke of the difficulties of being somewhere new and foreign, the insights they gained, the enjoyment of new challenges, and most importantly the people they met.
Those listening described the reporting back as "very moving".
"The impact of the experience is significant and profound for the Gap students and their futures", said leader of the Gap programme, Kitty McKinley.
Source: CathNews