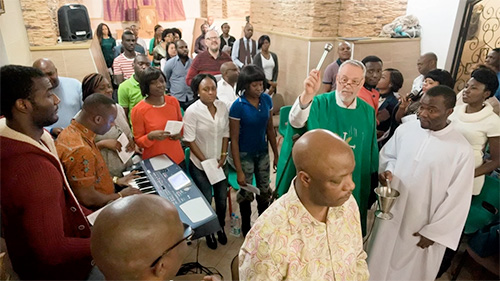 The Marist mission in Moscow, Russia nudges quietly forward.
Working in traditional Marist way, 'as if hidden and unknown', the mission "continues to hold up the Marist spirit if not the Marist flag", writes Michael Ryan SM.
He described the normal inclination for the mission in Moscow as "low profile", however, recently, friendly nudges from the Moscow City Administration are encouraging the mission to lift its heads a bit higher.
Fr Ryan explains that recently the parish has been taking part in local committee meetings and have done so at the invitation of the Department of Nationality Policies and Inter-religious Relations, of the Moscow City Administration!
"Be slow to say no to an invitation", notes Fr Ryan.
Among some positive results, the best is that on the evening of Palm Sunday the parish's French-language choir, took part in the "Paschal Marathon of Choirs".
This Marathon brings together choirs worshipping in minority religious groups and associations.
"If you look for us, Our Lady of Hope Parish, you won't wander across some Baroque masterpiece, or a Gothic or a Romanesque edifice with our name on the front door", says Fr Ryan.
"The parish usually meets behind closed doors, in hired halls, quietly in private residences.
"At other times it meets in embassy premises or occasionally in prayer rooms of a morgue, crematorium or the open air at a cemetery", he says.
He clarifies that all the parish's work fits within the law laid down for officially registered, local religious organisations.
How best to describe a Catholic parish without a parish Church in the middle to Moscow?
Fr Ryan says it seems best described by an Italian deacon.
"You merit the 'Standard and Poors' assessment table for national economies; a Triple AAA rating Parish; an African, American and Asian Parish in the capital of the Russian Federation, with, of course, Russians and Europeans, Latinos and an occasional Syrian."
Sources