A change in law helping stamp out inhumane labour and unsafe practices on foreign fishing vessels in New Zealand waters is a victory for the Apostleship of the Sea, (AoS).
New Zealand Director of the Apostleship of the Sea, Fr Jeff Drane SM says there are reports of crews, while in New Zealand waters, being beaten, forced to work for minimal pay, and for days without rest.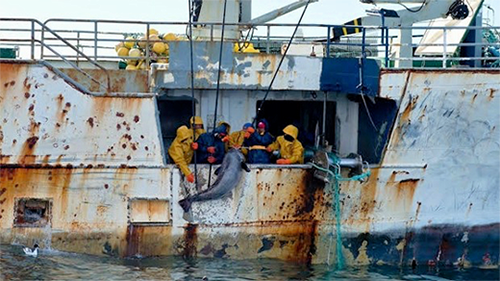 The law change makes foreign fishing vessels subject to New Zealand law and the country a world leader in addressing unsafe and inhumane labour practices for seafarers, he said.
"The legislation making it compulsory for the re-flagging foreign fishing vessels operating in New Zealand waters is a first of its kind in the world", he told CathNews.
Fr Drane says Fr Bruno Ciceri, a representative of the Apostleship of the Sea International at the Holy See's Pontifical Council for the Pastoral Care of Migrants and Itinerant People, and the work of AoS, has helped to convince the New Zealand Government of the need for this legislation.
"Because AoS is a widespread global apostolate we have to address the serious issues of fisheries globally," Drane said:
Fishermen are underpaid and exploited
they are subject to physical and sexual abuse
they work onboard rusty and unsafe fishing vessels
fishing vessels fly under flags of convenience
with no adherence to the law of that country, these fishing vessels exploit the fish stocks
the indiscriminate taking of fish stocks amounts to theft from properly registered and controlled fishing businesses and, more importantly, theft of fish resources from indigenous peoples.
The AoS and the Catholic Church globally are active in addressing these issues.
In June AoS South Asia is organising a global Fisheries conference in Bangkok and another next year in Taiwan.
AoS New Zealand delegates will be attending both conferences with a view to actions we are able to take.
So far, nine vessels had been reflagged, three were in the process of reflagging and could not fish in New Zealand waters until they had, Primary Industries Minister Nathan Guy said.
The Minister confirmed about nine had decided not to fish in New Zealand waters.
Sources