Helping for Hope is Bridgette's initiative to raise awareness about human trafficking.
Bridgette, a student at the Classical Academy in Escondido, California started the anti-trafficking club in her school.
Since 2005 the Marist Missionary Sisters have provided a transitional home in southern California for women escaping from human trafficking, and Helping for Hope is committed to assisting Mary's Guest House raise awareness.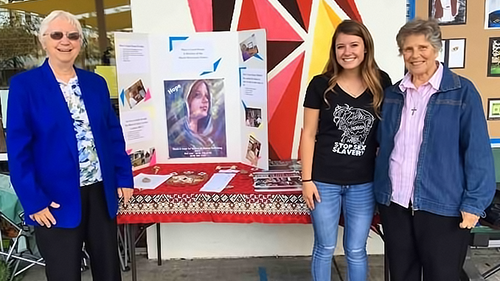 To date, Helping for Hope initiatives include a pizza evening with games and an impassioned presentation from Kathy Hardy, a former sex slave of 20 years.
Other initiatives include a T-shirt designed to promote the end of sex slavery and the school's art department having a project where students created an artistic work on trafficking.
"The most inspirational part was to see these young people becoming ambassadors for other young people to help them be aware of protecting themselves and helping others", wrote Sr Judy Sheridan on the Marist Missionary Sisters website.
Another Marist Missionary Sister, John Paul Chao is working to stem the tide of human trafficking in San Francisco.
"Most people I meet say they have seen a program on TV or read an article in the newspaper about it, but they don't realize how rampant it is", she says in an interview on the Society of Mary USA website.
"According to a U.S. State Department estimate, human trafficking is a $32 billion dollar per year business worldwide.
"That's a larger business profit than those of Google, Nike and Starbucks combined".
"The most common forms of human trafficking include: sexual exploitation of women and girls (79%); forced labor, male and female (18%); for the purpose of selling organs (0.2%); forced marriage; forced soldiers; and baby-selling.
"Sexual exploitation of women and girls is most common because the profit is much greater than the other forms," Sr John Paul Chao said.
Sr John Paul Chao's comments are reinforced by a 2015 study by the University of San Diego and Point Loma Nazarene University revealing sex trafficking is the second largest underground economy, in San Diego.
The universities' study estimate that in San Diego alone sex trafficking is valued annually as an US$810m industry; mostly run by gangs.
The study found 80% of victims are domestically trafficked while 20% were foreign born.