"Who says men don't cry ?" is New Zealand Marist priest, Tony O'Connor's initial reflection of ministering on the border of Mexico and the United States.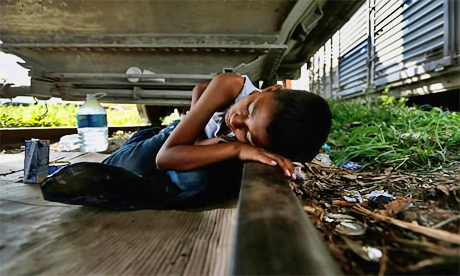 Part of Fr O'Connor's ministry, working in the Brownsville Texas parish, is to visit two detention centres, one for captured minor migrants and the other for captured adult migrants.
Given their personal circumstance and after all they have been through, Fr O'Connor offers a listening ear.
Fr O'Connor says that despite their detention he has a quiet admiration for the detained minors.
To get to the detention centre they travel around 1,200 miles.
Outlining a typical journey, Fr O'Connor says the kids 'train surf'; travel on the top of long trains called the "Bestia" (the Beast), they walk and bus through Central America and Mexico, they cross over the border in the desert where there are no high fences and border control and are either caught or in some cases give themselves up.
The minors that make to the detention centres are treated very well, but many get left in the desert, Fr O'Connor says.
Not all end up in detention centres.
"Others make it and cross the border without getting caught and end up hiding for a time in 'stack houses', where hundreds are locked in a room", he says.
The atmosphere in the adult detention centre is very different, run by the State, they are more like a prison; barbed wire included, he says.
"Those in red overhauls  have  serious criminal records in the USA,  those in "safety orange" have light criminal records and the blues (majority) are just 'illegals' caught crossing the divide", he said.
With more than 1,300 adult men detainees Fr O'Connor suggests it is not all negative.
"The last time there we had a full auditorium for mass, lots of pretty gutsy confessions too. Who says "men don't cry?
As well as "locals" currently there are three from Ghana, one from Somalia, people from Ecuador, Peru and five Chinese; whom he thinks made their first communion.
Commenting on his new mission, Fr O'Connor says that after being on mission in Peru and Venezuela for more than 30 years, he says it's taken a bit of time to get his feet on the ground.
With the Peru – Venezuela district closing, Fr O'Connor was asked by the Society of Mary's Superior General, Fr John Hannan, join the Marist mission in Brownsville, USA.
Fr O'Connor says while preferring to work with the more physically poor he can see the wisdom of living to saying, "'Where the captain sends, the sailor goes'. It works for me".
On Tuesday 8 July, 2014, BBC reports:
"The fate of tens of thousands of child migrants in the United States is turning into a major political problem for President Obama.
"This week he is expected to ask Congress for US$2bn to build detention centres and hire new officials – just to cope with the number of unaccompanied children arriving from Central America.
"Many of President Obama's supporters are upset at plans to send the children back to their home countries."
Fr Tony O'Connor is a New Zealand Marist, working in the United States and part of the Society of Mary USA Province Brownsville Parish ministry.