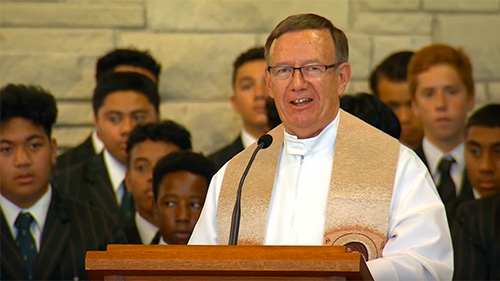 Mike and Yvonne Moore's supportive 45-year marriage was highlighted by several speakers at the former Prime Minister's funeral, Friday 14 February, in Auckland.
"No tribute to Mike Moore can exist without a tribute to Yvonne who has been next to him since 1975, through all the great cycles of life," said former Minister of Labour and Cabinet colleague, Bill Jeffries.
"There was no public Mike Moore without the private Yvonne Moore," he said.
Close friend, former St Bede's Old Boy and former Cabinet Minister Clayton Cosgrove described them as "the golden couple".
Cosgrove said Mike Moore would tell the voters "you got two for the price of one".
The partnership of Mike and Yvonne Moore was made tangible by former St Bede's rector, Fr Brian Cummings SM (pictured) who thanked them both for their generosity and availability to St Bede's College, Christchurch.
Cummings, who got to know Mike and Yvonne Moore during his 20 years at the college, was one of the co-celebrants at the funeral and led the prayers of intercession.
He described their support as a great blessing for the school and the community.
Current and former Prime Ministers and politicians from both sides of the House of Representatives prayed and farewelled the former Prime Minister from Dilworth College, Auckland.