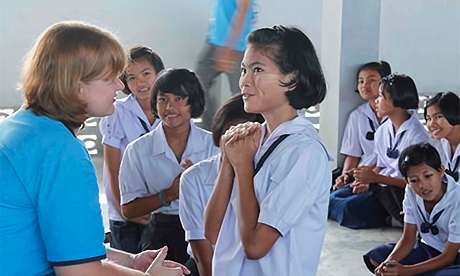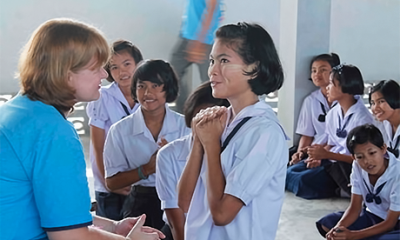 A minor mid-life crisis led Fr Frank Bird to Ranong, on the Thai-Burma border, where he found new purpose in life.
He was 40 at the time, and working in one of the New Zealand Marist province's priority missions in Okaihau.
"I was getting too comfortable," he told the Wellingtonian newspaper.
He said he could have continued his education work with children in the north of New Zealand and watch TV every night, but thought he had more to offer.
Fr Bird has worked with the Marist Asia Foundation for three years and was back in Wellington recently to visit the Foundation's supporters.
Education
There are 140,000 migrants living on the Thai-Burma border and the Marist Asia Foundation's three priests and 15 local staff run three education programmes, pre-school, secondary and online university through the ACU.
Fr Bird says that with poverty such a major problem, immigrant workers are likely to get what he calls "3D" jobs; difficult, dangerous or dirty, but that education provides hope.
Fr Bird thinks the Marist Asia Foundation is making a difference.
"All of our pre-school students go to primary school."
And he observes, that each year of secondary education improves their future chanced by around 10%, but alas few get the chance.
"There are only 13 Burmese teenagers in all of the Thai state schools in the area."
HIV/AIDS
Ranong is a fishing village where prostitution is common. Prostitution goes hand in hand with HIV/AIDS.
"They avoid being tested and carry on as if they haven't got it," Fr Bird told the Wellingtonian.
The Marist Asia Foundation works hard in the community to help people with HIV/AIDS.
As well as regular visits to people suffering from HIV/AIDS, the Foundation puts translators in into the hospitals to teach people about HIV. For those at home and who cannot read and write, the Foundation workers, for example, draw a Sun on the calendar to remind them to take a tablet in the morning.
Bird says that working with the Marist Asia Foundation has changed him inside.
It's a bit like Jesus in the gospel of John taking off his 'priestly garments' and picking up a 'towel and water basin' to wash dirty feet; moving from the ordered priestly workbench of the altar to more dirty missionary pathways and streets, he said.
"I've never been happier," said Fr Bird.
Sources
The Wellingtonian (article currently not available online)
Supplied