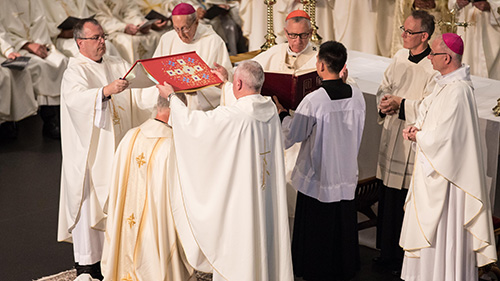 An optimistic crowd, Saturday, packed a very hot Christchurch Boys' High School auditorium for the ordination Bishop Paul Martin SM.
Bishop Martin, ordained the tenth Bishop of Christchurch on 3 March, 2018, by Cardinal John Dew, succeeds Bishop Barry Jones, who died in February 2016.
In a ceremony involving Latin, Māori and English, Pope Francis diplomatic representative to New Zealand, Archbishop Martin Krebs, read the pope's message mandating Bishop Martin's appointment.
Service, not honour
Speaking at the ordination Cardinal Dew highlighted the important role of service in the life of a bishop.
"Service is never far from the mind of a bishop", he said.
"A bishop's role is not one of honour but of function; striving to serve rather than rule".
Addressing the people of Christchurch, he told them, "Today you are gifted with someone who is ready to serve you.
"I am sure the people of Christchurch will delight in Bishop Paul as someone who is here with you and for you".
Describing Bishop Martin as a "humble servant", he told the congregation that the only authority Bishop Martin had was that of service.
At the conclusion of the ceremony Bishop Martin spoke with raw honesty and showed what a gift he will be to the diocese of Christchurch.
Thanking his family, particularly his mother and late father, he said, "I am very blessed being born into a family that is stable, loving and showed me what living a Christian life looks like."
He continued, "Growing up in Hastings, there were 14 Marists living in the presbytery and so I had lots of great examples of how Marist life could be lived.
"I could see myself living that way also.
"So today, I am who I am because of my natural family and religious family."
Reflecting on his 24 years of priestly ministry in various dioceses in New Zealand he told the people that he now belonged to them.
"I'm no longer a wandering religious. Christchurch is my home", he said.
Installation as bishop
On Sunday, Bishop Martin presided at St Mary's pro-Cathedral for the first time.
In his first homily as Bishop of Christchurch he told the congregation that we may use words to express our faith, but what is important in life is what we do.
"If we are to be Christian, actions must be consistent with our words", he said.
Post Christchurch earthquake Bishop Martin is faced with a major decision whether to rebuild the Blessed Sacrament Cathedral.
The estimated cost of rebuilding the Cathedral is $100m.
Making reference to the scheduled Sunday Gospel reading about the money lenders in the temple, a good humored Bishop Martin smiled saying, "I hope the choice of Gospel reading is not a sign of things to come."
Calling the appointment 'a fresh start' and a 'new beginning for the Christchurch Diocese', those attending the ceremonies were optimistic about the choice of Bishop Martin as their bishop.
Last week, Bishop Martin surprised some by identifying the re-siting of Marian College as his number one priority.
Aged 50, Bishop Martin will serve as bishop until aged 75 when it is mandated he offer the pope his resignation.
Sources:
Images: Christchurch Diocese