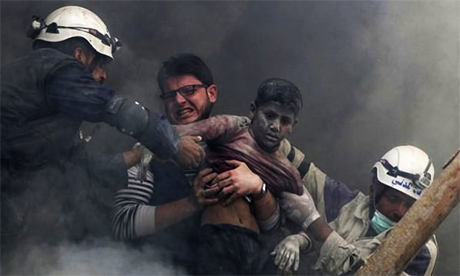 New Zealand Marist priest, Peter Healy, is encouraging people to sign an online petition to create a No-Fly zone over Syria.
"Signing the petition is a small and significant step in solidarity with those Syrians who have remained and who are struggling to rebuild the nation", says Peter Healy.
The petition will be sent to the United Nations Security Council.
Fr Healy's global initiative follows that call of New Internationalist journalist Daniel Adamson that "Syrians need an internationally enforced No-Fly Zone to protect them from Assad's barrel bombs."
Writing in the September issue of the New Internationalist Adamson advances the view that a No-Fly zone will enable ordinary citizens across various regions of the country to continue building a culture that is humane, democratic and just.
It is "worse than naïve" to abandon brave men and women who are still fighting to keep alive their hopes, Adamson says.
"To ignore these people, as the international community continues to do, is to deprive them of solidarity".
Adamson is not alone in his view and the New Internationalist reports many of Syria's best and bravest agree with his reading of the situation.
'The Syrian people,' wrote journalist Mazen Darwish in a letter smuggled out of a Damascus jail cell, 'are children of life, capable of constructing a state built on dignity, freedom and justice.'
Avaaz.org are a global online social justice community who seek justice and peaceful solutions to global injustices.
The Avaaz network is in 194 countries and has 41.5 million members.
Sources: