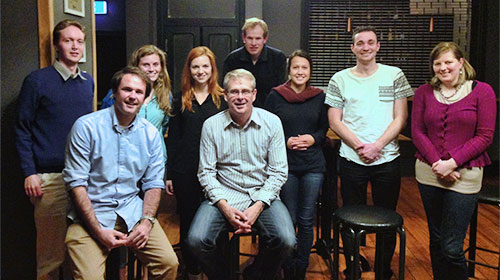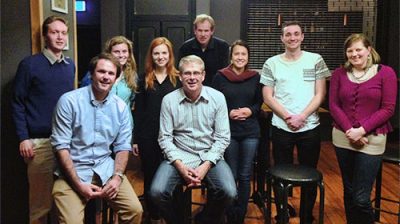 Numbers attending Mass St Mary of the Angels have dropped slightly while the church is closed for earthquake strengthening, yet the parish continues to reach out.
With Sunday Mass now celebrated at four venues, the parish is making an effort to engage with students.
Located in the heart of central Wellington, St Mary of the Angels' parish is a spiritual home to five university hostels and numerous student flats.
Known for its student-friendly liturgy, particularly at the 5:00pm Sunday Mass, this Mass continues albeit on the other side of the city.
"Moving across town puts additional pressure on students; it's a bit harder to get there," says Parish Priest, Fr Barry Scannell.
"Like us, the students are looking forward to coming back home to St Mary St Mary of the Angels at Easter next year".
While primarily a liturgical and devotional centre, St Mary of the Angels also has three groups that appeal to students.
Theology on Tap
Theology on Tap is a monthly event hosted by the St Mary of the Angels' young adults group. A familiar format to those used by other theology on tap groups, meetings are held in a nearby pub.
Theology on Tap at St Mary of the Angels has been going for about 5 years.
"It's a chance to meet other and learn about our Catholic faith", says regular attender, Jane Ellis.
She enjoys the variety of speakers; local Catholic politicians, pro-life leaders and Catholic educators.
The most recent speaker was Mons Gerard Burns, Vicar General of the Archdiocese of Wellington, Vicar for Māori and executive board member of Caritas Internationalis.
Monday Night Group
Vicky Wall is a member of another group for young adults, "The Monday Night" group.
She says the group meets weekly to read and discuss a document relevant and important to how we live.
Calling it a springboard to interact, share and pray with our friends, the group has just finished focussing on "Amoris Letitia".
"The biggest challenge using Amoris Letitia has been that none of us are married.
"The group got by using examples of our own childhood families", said Vicky Wall.
Having completed Amoris Letitia the group is now thinking of what they would like to read next.
SMYAC's
SMAYAC's is another youth group in the St Mary of the Angels' parish.
It meets on the first and third Thursday of each month.
On the first Thursday the focus is spending some quiet time with God and resting in his presence in the Blessed Sacrament.
Each of the group takes turns to organise the time which varies from silence, reflecting, praying and sometimes even Taize singing.
The third Thursday's meetings are spent reflecting on the upcoming Sunday's gospel.
As an aid to their reflection the group uses Lectio Divina to meditate, pray and commune with God through His Word. Sharing, a hymn and a time dedicated to prayers of intercession are all important components to the SMYAC meeting.
Image: Facebook