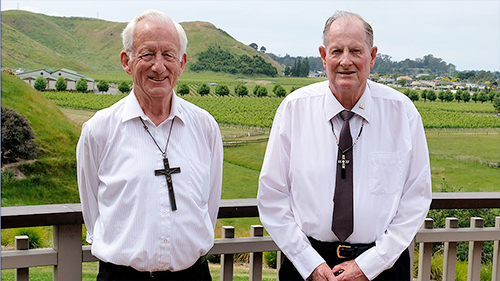 At Mass on the Feast of the Assumption, Br Bill Archer and Br Ray Kelleher marked their 60th anniversaries as relgious brothers in the Society of Mary.
The celebration was held at St Mary's Church, Taradale, in Hawkes Bay.
Ray Kelleher's religious vocation was inspired by the story of Fr Emmet McHardy's life of service in the Solomon Islands.
After a period of time in the Mission Estate Winery, Ray became a teacher in Marist schools for 23 years. Finishing his teaching career he spent what he describes as a "worderful experience" as project manager repairing buildings and schools in the Cook Islands.
On returning to New Zealand Ray was appointed to be the national co-ordinator for Marist Schools in New Zealand.
Grateful to God for his vocation, Bill Archer was similarly inspired by Emmet McHardy.
From his early days in religious life, Bill Archer wanted to be a Catechist Brother but in 1963 went to Bouganville in PNG where he worked for 15 years as a carpenter, trade teacher, building churches, a convent and hospital.
It was not until 1979 that his dream to become a Catechist Brother materialised.
In 1988 the 'Bouganville conflict' broke out and after a short time in Rome he returned to New Zealand.
After many years of sterling service to the Church in New Zealand and abroad, Brothers Bill Archer and Ray Kelleher now live in retirement in Hawkes Bay.
Sources: