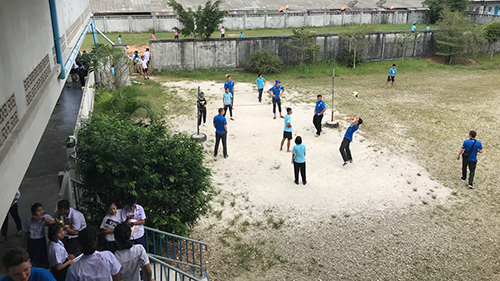 Eight Year 13 students from St Patrick's College Wellington will spend part of their 2019 summer holidays at the Marist Mission in Ranong, Southern Thailand.
The students will help Burmese refugees in Ranong, Thailand, learn English.
The journey follows a similar one in January 2018.
"It's going to be a great opportunity to open my mind and see how other families in the world live," says student William Ross.
Fellow student Sam Aldridge says he is looking forward to helping out people that are way less fortunate.
"I'm up for the challenge", he says.
According to the College's Fr Matthew Crawford SM, the trip has the dual purpose, giving the St Patrick's students an experience of how others with few material resources make the most of what they have got, and secondly to contribute some much needed English speaking teachers to help the Burmese refugee students.
"Knowing English is the single most important way for these students to break the cycle of poverty", says Fr Frank Bird SM of the Marist Asia Foundation.
"If the St Patrick's College students are able to help in some small way in that educational journey, the trip will be a resounding success", says Matthew Crawford.
Matthew Crawford says the feedback from earlier trips is the St Patrick's students find it very moving to visit the homes of some of the students they teach.
It is "a real eye-opener", Matthew Crawford says.
In between studying for their exams, the eight students are busy fundraising for the venture.