Pope Francis reached out recently to the children of Brownsville diocese, saying he wanted to be close to them.
The Diocese of Brownsville lies on the Mexican border and is considered one of the most impoverished areas of the United States.
"I want to tell you to always look forward, always look towards the horizon, don't let life put walls in front of you."
"God calls you to receive mercy and show mercy to others. God calls you to be happy. Do not be afraid! Do not be afraid. Play life to the full! That is life," Francis told them.
Brownsville Marist parish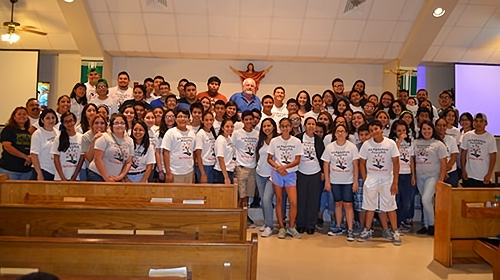 The message was heard by parishioners of  San Felipe de Jesus Church, a Marist parish in Brownsville.
While packed on Sundays with youth and adults, Pope Francis' message was particularly poignant for more than 100 migrant children under 18 years of age who attend Mass.
New Zealand Marist Father, Tony O'Connor ministers to children coming across the border into the US.
Most of these children are fleeing from poverty and violence… the journey is fraught with its own dangers…they have to grow up pretty fast.
" Most of these children are fleeing from poverty and violence", he told the The Valley Catholic; a diocesan paper.
The children, who are mostly from El Salvador, Honduras and Guatemala, enter the United States unaccompanied.
On arrival they are housed in shelters while arrangements are made to reunite them with relatives living the US or back in their country of origin.
Tony O'Connor says they come to the United States in search of a better life, but the journey is "fraught with its own dangers".
Passing through moral and physical danger to get to the United States, "They often have had to grow up fast", said Tony O'Connor who visits four different centros de refugio to hear confessions and visit the children.
No walls to migrant children
The San Felipe de Jesus Church welcomes the migrant children and has a section of the church reserved for them.
"Everybody respects that space, says parishioner Miguel Lopes, who serves as an usher.
"People will stand in the back of the church rather than sit there.
"We are not afraid to admit we give them special treatment because we want them to feel special…. I see some of them crying as they pray.
"We know they are going through a lot.
"We feel their pain", he said.
Another parishioner, Yolanda Castillo agrees, saying the parish feels blessed to have them as part of the community.
Asked if there was any reservations about having the children join them for Mass, parishoner David Gomez responded with certainty.
"This is the house of God.
"Everyone is welcome.
"On the rare occasion the children don't come to Mass we really miss them. We feel like a part of us is missing", he said.
Parishioner, Marcos Garcia is relatively new to the Marist parish.
"I am in awe of this community, of how generous and welcoming everyone is and I believe it comes from Our Lord, first of all and also from Father Tony," he said
"He inspires us to serve and we pray for him constantly that he will continue to have the strength to minister to these children".
Sources