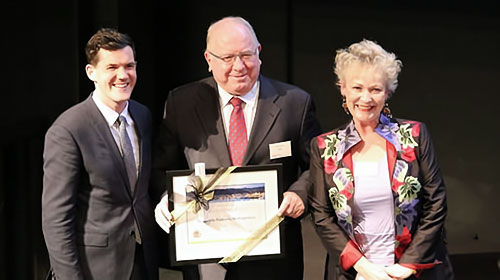 Wellington Mayor, Justin Lester, 8 June, presented St Mary of the Angels Parish Parish Priest, Fr Barry Scannell SM with an Absolutely Positively Wellingtonian award.
The Absolutely Positively Wellingtonian Awards are a way for the Wellington City Council to acknowledge members of the community who have made outstanding contributions, to the Capital and its people.
Mayor Lester set the scene for presenting the awards.
"It's our city's people that make this such a special place to live".
"The Absolutely Positively Wellingtonian Awards are about recognising the people who selflessly give so much to our communities", he said.
Wellington City Councillor, Nicola Young introduced Fr Scannell to the other recipients and invited guests.
She described him as a "tireless worker" who is "deeply involved in many areas of Wellington life".
Councillor Young lauded Fr Scannell for making the big decision to prudently close the church in the interests of public safety, saying the decision was vindicated by scientific tests showing the church was only 20% of the building code.
Labelling both the fundraising campaign and Fr Scannell's lead role as "ambitious", Councillor Young praised the St Mary's Parish Priest for continuing to lead his congregation throughout the challenging process.
Called out of Wellington for a funeral, Fr Scannell asked Keith Quinn to represent him.
"In accepting this award I have to say I think this is a classic example of a Wellington friendship which goes across diverse and different interests and beliefs – which can lead to firm friendships," Mr Quinn said in reply to Councillor Young.
"I am not a churchgoer at all (and Barry obviously is!) but our friendship is real – I have always noted his total commitment to his faith and his church – and in particular the hard work he put in to the recent re-build of the Wellington icon which is St Mary's of the Angels".
Mr Quinn said he was very proud to be present representing 'Fr Barry'.
He also comment of Fr Scannell's Wellington involvement not being limited to the central city church.
In particular he recalled the recent occasion, that as chaplain of the Marist-St Pats rugby club, 'Fr Barry' contacted him when a young member of the Wellington Axemen, Mr Quinn's club, lost his life on the field.
"Fr Barry immediately offered his thoughts and prayers to us, which we deeply appreciated," he said.
With a sparkle in his eye Mr Quinn recalled another occasion of Barry also offering his prayers.
"He showed further concern last weekend when Marist-St Pats were having a reunion and they played my club in two games at Hataitai Park.
"In the first game MSP beat our 'B' team 89-0 and that was followed by MSP's top team beating ours by 50-3!
"I wasn't able to be at the games but I received a lovely message from Fr Barry that night, saying our club had been mentioned at the reunion as a long-standing friendly rival – but that regarding the results of that day he and MSP would be 'praying for us!'
"Seriously, I appreciated that too – it's all part of his commitment to all Wellington people," he said.
Other recipients of Absolutely Positively Wellington Awards
Fr Scannell is one of twelve award recipients. Others are:
Laurie Foon: Tireless worker to advocate and educate the business sector on how to be more sustainable. Currently a member of the Sustainable Business Network and a champion of Wellington as a Fair Trade City.
Esther Fung: Furthering the understanding of ethnic communities in Wellington, particularly the Chinese Association, Wellington.
Adrienne Girling: One of Canada's gifts to Wellington, Adrienne has chaired Out Wellington and produced the Wellington Pride Festival.
June Te Raumange Jackson: Helped the Wellington community and Government understand her mana whenua Māori tribal traditions.
Jeff Khan: For three decades, the voice of Wellington's Hindi Radio programme; passing on important national and community news to the Hindi communities in Wellington, Auckland and his native Fiji.
Geraldine Murphy: Determined advocate for Inner-City Wellington, focussing on issues such as: seismic strengthening, EYES ON for retailers, inner-city begging and anti-social behaviour.
Don Neely: A servant to all areas of cricket during a lifetime of devotion to the game. Cricket is fortunate Don decided cricket was his game, and during his long life, Don's love for cricket has never wavered.
Ashley Peters: US born Wellingtonian with a love of mountain biking and a sense of belonging, fun and friendship has spent years passing on that joy to others. Established Revolve Cycling, WORD and JoyRide.
Lucy Revill: Passion for Wellington as expressed through her blog, The Residents.
Alistair Smith: Bone cancer battler and cycling enthusiast who has advocated for Wellington cycling since the 1970's.
Paula Warren: Dedicated to conservation Paula helps the Wellington region through the Growing Places Charitable Trust delivering ecological benefits to Wellington, helping to solve problems such as rubbish dumping, tagging and management costs.