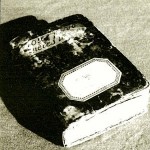 From 1838 Mayet began to separate his personal notes from what would become his notes on the Society of Mary. The latter formed the basis of what he called his Memoirs.
At the end of the academic year of 1838-1839, Mayet's health began to deteriorate, and the sickness which affected his speech worsened. Being unable to speak, Mayet could not involve himself in the normal apostolic work of a priest. He spent a year away from Marist houses in the hope of convalescing, but this was ineffectual, and he remained virtually unable to speak for the rest of his days. Such a personal tragedy for Mayet proved to be a blessing for Marist history.
While he was convalescing, Mayet conceived the idea of organizing his personal notes to ensure that what was personal to himself could be kept separate from what concerned the history of the Society of Mary and his personal memoirs of Jean-Claude Colin.