At the end of the General Chapter Fr Jan Hulshof received a letter from Card. Tarcisio Bertone, Secretary of State of the Vatican, with a message from the Holy Father to the whole Society.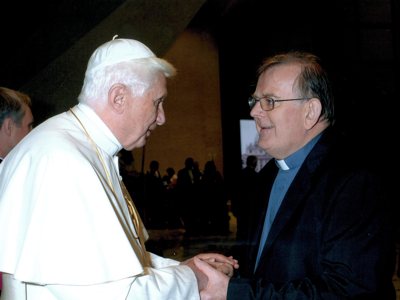 Dear Fr Hulshof, "The Holy Father was pleased to learn that the twenty-eighth General Chapter of the Society of Mary is taking place here in Rome from 1 to 23 September. He sends his greetings to those taking part in the Chapter and joins all the members of the Congregation in giving thanks to the Lord for the witness of their religious consecration and missionary zeal.
Kindly assure the Newly Elected General, the Reverend John Hannan, of a remembrance in the Holy Father's prayers.
As you gather to discern the Lord's will for the Congregation for the coming years, His Holiness encourages you to reflect upon your consecrated life as a call to "witness to the primacy of God through free obedience to his will, and to live [your] yes to the Lord in joy" (Instruction, the Service of Authority and Obedience, 3).
As sons of Mary, the model of your own joyful response to Jesus is his mother's Fiat. Attentive to her example, you will find that it is "along this via amoris that the flower of listening and obedience blooms" (ibid, 4)
Entrusting the Society of Mary to the continuing protection of the Blessed Virgin, Mother of the Church, His Holiness cordially imparts his Apostolic Blessing.
With fraternal good wishes,
I am Yours Sincerely in Christ
Tarcisio Card. Bertone
Secretary of State