Some may call it surprising, for others it's synchronicity when New Zealand Marists, Chris Skinner, Dave Kennerley, Arthur Toothill and John Craddock all met up in France.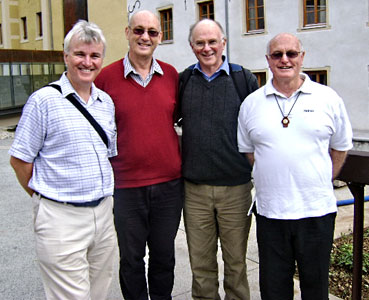 The story goes like this.
While in Sainte Foy-Les-Lyon Arthur went by train to see John at Saint Chamond. When Arthur arrived, he found Chris, and David there as part of the Marist renewal programme.
It was however a short-lived meeting as the following day they went their own ways again to various Marist Places. Chris and Dave went with their group to to La Neyliere and John took Arthur by car to La Valla.
John Craddock is working, for three years, as a chaplain for an international community of eight Brothers and four Marist Laity.