Two-hundred people gathered at the Mount Street Cemetery to mark the 170th anniversary of the cemetery's consecration by Bishop Pompallier.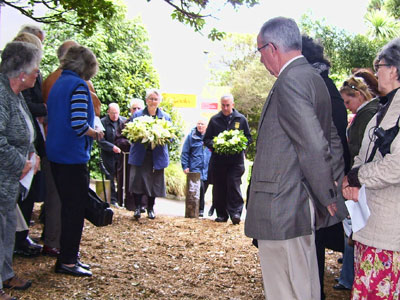 Among those who attended were several Marists, the Archbishop of Wellington, representatives of the Capuchins, Mercy Sisters, members of the French, Irish and Polish diplomatic corp, the Mayor Wellington, Celia Wade-Brown, Deputy Mayor, Ian McKinnon, several city councillors and ancestors of those who are buried in the Mount St cemetery.
The service of blessing was led by the Archbishop of Wellington, John Dew.
To represent the different ethnic groups buried in the cemetery, prayers were read in Maori, French, Italian and English. Wreaths were laid on behalf of the Archdiocese and the three Religious Orders whose spiritual ancestors are buried in the Mount St cemetery, and Mo Maria, a Maori hymn, written by Bishop Pompallier was also sung.
Momentum for the event originated during a pilgrimage of Catholic Wellington 2009. Pilgrims were horrified at the condition of the cemetery and the resulting Friends of Mount Street Cemetery have embarked on progressive cleanup of the cemetery.
Three Marists, Frs Jean-Baptiste Petitjean, Augustine Sauzeau and lay Marist, Jean–Francois Yvert, are buried in the cemetery.
Jean-Baptiste Petitjean arrived in New Zealand in 1839 and ministered among the Maori in North Auckland and Auckland. He also celebrated the first Catholic Mass in Christchurch and in Wellington, where he died in 1876 while kneeling at the foot of the altar in the Wellington Cathedral.
In modern terms, Augustine Sauzeau was a qualified paramedic before he joined the Society of Mary. Arriving in New Zealand in 1861, he ministered up the Whanganui River and later Napier, Blenheim, Meeanee, Timaru and Wellington. He was the first New Zealand Marist Vicar-Provincial and died in Wellington in 1892.
Jean–Francois Yvert arrived in New Zealand in 1841 and was the printer at the Marist Catholic Mission. Later he became a teacher and in 1850 came to Wellington with Bishop Viard. He was a pioneer Catholic teacher in Wellington and died in 1867. The location of Yvert's grave is has only been discovered recently by using a Ground Penetrating Radar Survey and is currently only informally marked.
Related Material
Friends of Mount Street Cemetery