The Prime Minister of New Zealand visited the Mission Winery yesterday to officially open the new environmentally-friendly extensions.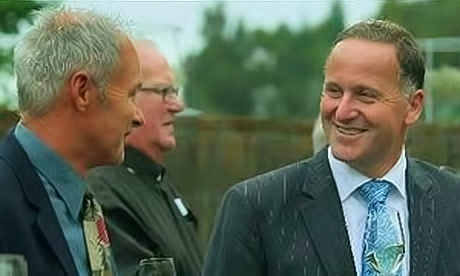 John Key joined invited guests, including several Brothers of the Society of Mary who formerly worked at the Mission, and head of the Society in New Zealand, Fr Brian Cummings, to bless the winery's new "green" extensions.
Winery general manager Peter Holley said the building was largely completed last year and it was time to have a blessing.
"We are a Christian organisation, so that's what we're doing," Holley said.
In opening the extensions, Mr Key, who is also Minister of Tourism said New Zealand has been marketing itself on the quality of the wine and positioning the New Zealand Wine industry with a great price and great product.
"Here in Hawke's Bay you have a tremendous amount of wine, including the world famous Gimblett Gravels – you have a great product coming out of Hawke's Bay," the Prime Minister said.
Key, also noted the quality of Mission Estate wines.
"Mission Estate recently placed third behind first-growth Bordeaux from big name Chateaus," said the self-confessed Syrah aficionado.
With modern refrigeration systems, thermo-mass construction and insulated walls and ceilings, the new Mission winery is a "green" construction, purpose-built to leave a small carbon footprint.
"Our new winery and its modern technology provides obvious synergies with our sustainably accredited vineyards," said Mission Winery CEO, Peter Holley.
The 'green' development is a major statement for the New Zealand winemaking industry and promises to continue the company's domestic and international growth.
Founded by the early Marist French missionaries, the Mission is New Zealand's oldest established winemaker and the home of New Zealand wine.
The work of Marists in New Zealand and their contribution to the community continues to benefit from the proceeds of Mission wine.
Image: Hawkes Bay Today