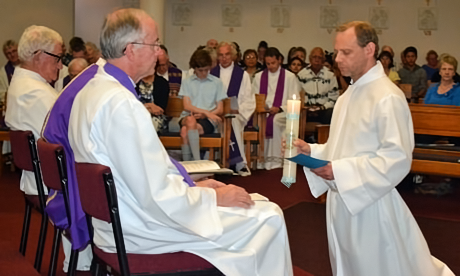 Philip Bennenbroek made his perpetual profession as a Marist in Whangarei on Saturday 22 March.
Phil's parents and 15 Marists joined the parishoners of St Francis Xavier parish for the occasion, which was part of the Sunday vigil Mass.
Describing the occasion as 'fantastic', Phil said "all the different parts of the liturgy worked together really well to create a celebration that was greater than the sum of the parts."
His abiding memory of the profession was of the warmth and friendliness of the community at Whangarei; a number of who took the opportunity to introduce themselves.
The Parish Priest of St Francis Xavier, Thige O'Leary, welcomed the occasion, saying "it was great for the parish". Fr O'Leary said a number of parishioners had not witnessed a profession ceremony before.
Phil is particularly grateful to those friends, family and Marists who travelled long distances and for several hours to be at the ceremony in Whangarei.
Phil is currently on pastoral placement at St Francis Xavier parish Whangarei. For the past seven years he has been a seminary student at Marist Seminary, Auckland.
He is due to be ordained a deacon by Bishop Patrick Dunn on May 31 in St Patrick's Cathedral, Auckland and his ordination as priest is 'pencilled-in' for December 13. It is due to be held in his home parish of Pukekohe.
Prior to joining the Society of Mary, he studied Electronics and Computer Technology and worked in New Zealand in the field of Process Control for 11 years.
Doing his 'O.E.' in London for three and a half years, he worked as a software developer and lived in a lay Augustinian community, which is where he said he experienced his first taste of community life.
Returning to New Zealand in 2006, he started his own I.T. business and, in 2007, moved into the Catholic Discipleship College community in Auckland where he also worked part time.