Several different things came together in the last few days: during the last year some interesting men inquired about Marist life –married, disabled physically or mentally, people from overseas and recent migrants; I met a young man who is interested in mission and the Marist life, but not as a professed religious; I gained access again to the Marist Studies website (after forgetting not just my password, but also my username); and I had a conversation with an old boy of Greenmeadows who was asking me how many candidates we had for the seminary. This man was there during my time, when there were almost a hundred Marist seminarians in formation. Somehow all these things became linked.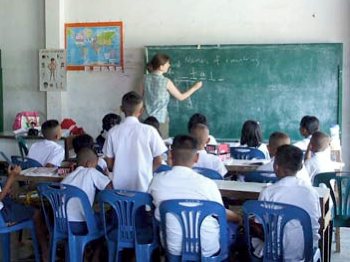 Would we accept a forty-three year old married man, separated from his wife and daughter for the Marist Mission? We certainly wouldn't accept him for formation as a professed Marist, and I can't imagine we'd readily accept him for any other work. And yet Fr Colin did.
M. Jean François Yvert was the layman who was the mainstay of the printery at Kororareka (Russell) and later worked in Wellington. One of the guides at Pompallier in Russell repeated a couple of times that Yvert was her favourite among the characters who lived and worked there. This piqued my curiosity and I've since read his letters on the Marist Studies website.
In them there is a growing sense of excitement and enthusiasm as he prepares for the journey to Oceania. It becomes clear that soon the little band come to rely on him. He even tells Colin to send him 14 or so brothers! "Do not send more than 14 men, because there are only 14 berths, but try to reach this number." He was an extraordinarily talented man – learning how to print, sew and bind the books in record time, disassemble and assemble the press, fabricate the wooden parts that were left in France and arranging the finances when the bank in which the mission's funds were deposited went bankrupt.
While it is true that Jean François aspired to join the Society, he was willing to take the risk and head off to the other side of the world with no guarantees. And it would seem that once in New Zealand, he belonged neither to the Fathers nor to the Brothers: "Now, living in the midst of a society in constant change and placed between two opposite poles, the Fathers and the Brothers, I sometimes find relationships a little painful." He ended his life as a layman.
Jean François was an invaluable part of the Mission of the Society here in New Zealand.
Recently I've been intrigued by articles in issues of Wel-com, written by a young layman. (c.f. External Related Links: Marist Mission Ranong) I've heard stories of a young NZ couple that is volunteering in Ranong. Young Filipino, Thai and Burmese lay people also take part in the mission there.
In Peru we would often call on lay people to go on mission to more remote or marginal areas – where the church was barely established. Off they would go in the back of cattle trucks for a dusty five or six hours trying not to fall down into where the livestock travelled. In the beginning they went for long weekends. Later teams would stay for months, catechising, teaching, working with youth, leading Sunday liturgies and preparing local lay leaders.
Inevitably these young adults would come back, as the saying goes, "pumped" to have been instruments of God's mercy and concern for his people. As is so often the case in Mission, those "sent" are recipients of God's action as well as his instruments!
Were these lay missionaries perfect? No. Did they get into trouble from time to time? Yes. They did, however, fulfill a valuable role in areas where "professional" missionaries were unable to reach regularly.
These lay Marists built up the church where it was weak.
Fr Colin recognised the worth of the laity, not just as an object of ministry, but also as the ministers. He was willing to send such men to the farthest ends of the earth in order to carry out the mission of the Society. New Zealand received the very first lay Marist missionary 169 years ago.
Is it again time to promote this vocation for mission in this country and abroad?
– Pat Brophy