The Newtown budget and advocacy service wants people to know it exists and can help anyone with budgeting issues.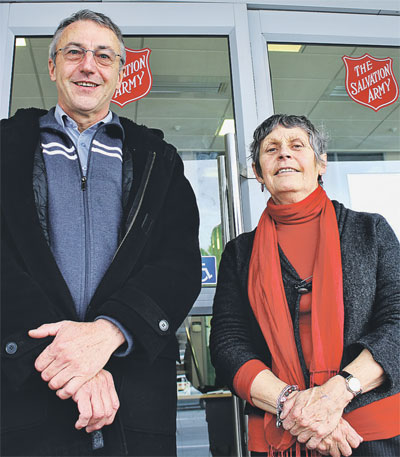 Advisor Mary Inglis says the team sees a wide range of people, including young ones with jobs, who overspend their money on Friday nights and are in debt.
"People have troubles managing their money, money in, money out, so what we do is go through all their expenses and give them a photo of the real facts."
The team finds out if they have a deficit or a surplus, and helps them work out how to save money for the power and the annual expenses.
Sometimes the team finds that some families are not getting all their full entitlements, says Mary.
In some big families, the benefit just covers the essentials.
"They find it very hard not to buy extras. They buy the wrong things and have a big food bill, giving sweets and fizzy drinks to the children:"
Budgeting issues come from the global economics, and also from private troubles, says Mary.
"We learn how to handle money from our parents. If your family wasn't managing, then you haven't learnt. With more consumerism and more choice, and not good budgeting skills, that is when the troubles start."
People usually leave their debt growing for too long before doing something about it, says Mary.
Yet it takes a long time to make the changes.
"You've got to have motivation and often it is the crisis that helps getting things back on the right track."
Financial literacy programmes are run with the bridge programme at Salvation Army, and with the Wellington youth service Evolve.
"We are just starting with Probation," says Mary.
The team would also like to do little group courses on managing money.
Service coordinator, Marist priest Jeff Drane, who is also on call at St Mary of the Angels Parish in Wellington, says the budgeting service was started in 1988,and there have been changes throughout time.
"At first it was very localised, but with time there was an increase in refugees and migrants. Lately, there has been a movement from the lower socioeconomic up until the middle class because of the global collapse of the credit system."
And the situation is not improving, says Jeff.
"There will be a problem in October with the increase in GST by 2.5 percent.
The increase in benefit is only 2 percent."
The Newtown Budget and Advocacy Service, 26 Riddiford St, Newtown (opposite Wellington Public Hospital), and is open five days a week from 9:30am – 3:30pm. For an appointment, phone: 04 3898121.
Source: Cook Strait News.
Used with permission.