CathNews New Zealand and CathNews Pacific launched recently. They are two publications in one. Already with in excess of 2,500 visits and nearly 10,000 page views in not quite a month, the limited release is a small but positive beginning.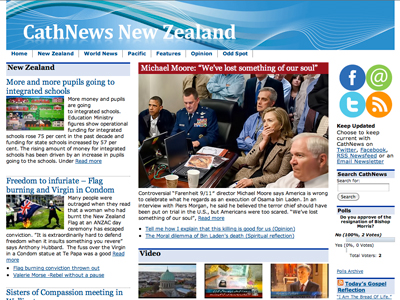 CathNews reports news about and of interest to the Catholic Church. Building on the foundations of the Society, it has a particular focus on New Zealand and the South Pacific.
The twice-weekly, free publication aims to be a reliable and up-to-date observer, reporter and commenter of news in the South Pacific, New Zealand and from around the world. It looks to engage people interested in issues that impact the Church as well as issues which are impacted by the Church.
CathNews looks to
share news of the Church elsewhere which is relevant or is potentially of interest locally
enable content to be sensitive to the local Church
give voice to the issues the Church is facing
What makes CathNews a little different is
it delivers content twice-weekly
it's published by email newsletter, Twitter, Facebook and RSS
it covers the "hard" news about and of interest to the Catholic Church
it's free
Key to its success is getting people to sign up to receive the newsletter.
"Marketing CathNews is proving to be challenge. As well as signing up yourself, we'd appreciate any help you can give by recommending it to a friend or colleague," Denis O'Hagan said.
The concept of CathNews is not a new one, CathNews Australia has been around for some years and for the past couple of years John Murphy has been working with the Union of Catholic Asian News (UCAN) and as part of a team has been responsible for the development of a range of Asian versions of CathNews.
CathNews has a good working relationship with UCAN, and mid way through 2010, Denis O'Hagan was a guest of UCAN and joined other CathNews and UCAN editors in Bangkok at their week-long annual in-service training, which is also designed to help build up commaradre between the editors.
In 2009 – 2010 years working with UCAN, Google Analytics indicated that across the UCAN suite of News sites, traffic trebled to reach 150,000 visitors a month and 240,000 page views. UCAN's premier site, www.ucanews.com jumped 60,000 places among sites whose traffic is compared. There are only a few Catholic sites with higher ratings – Zenit, Catholic News Service (USA) and the Irish Jesuit site, Sacred Space.
CathNews was designed by New Zealand Marist Internet Ministry. It is published by Church Resources Ltd and is complied by Denis O'Hagan and John Murphy.