Marist seminarian Adrian O'Flynn, who is about to head to Rome to study theology, is CathNews NZ and Pacific subscriber 800.
"We are delighted with the response to CathNews," Church Resources Ltd CEO Fr John Murphy said.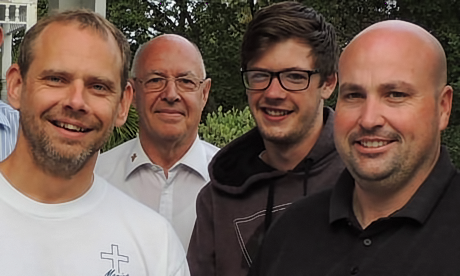 Fr Murphy said the CathNews editorial team of former NZ Catholic editor, Mr Pat McCarthy, Marists, Frs Denis O'Hagan and Kevin Head, knew the 800 mark was approaching, and while it's another milestone, they were pleased it was Adrian who helped CathNews break the 800 mark.
Starting CathNews as a charitable outreach of Church Resources Ltd, is a leap of faith confesses Fr Murphy.
"While the CathNews recipe works in Australia, the United States and throughout Asia, we needed to be mindful of the particular local circumstances in New Zealand and throughout the South Pacific."
Fr Head worked in the South Pacific for 12 years and understands some of the challenges CathNews has in reaching an audience there. "I'm particularly pleased with the increasing number of visitors and subscribers from the South Pacific.
"While we're not a flooded with new Pacific subscribers, they're coming in much more often than they used to," he said.
Fr O'Hagan, editor of CathNews, says the publication has been fortunate to attract a donation from the Society of Mary. "It's helped enormously, we probably wouldn't have been able to manage without it."
Published twice weekly, during the period of Pope Benedict's resignation and the election of Pope Benedict, CathNews became a daily.
"Pope Benedict's resignation turned out to be a 'God-send' for CathNews" Fr Murphy said.
While some didn't like the 'daily dose' of Catholic news and unsubscribed, the publication never-the-less moved from 500 – 800 newsletter subscribers in a relatively short period.
Facebook and Google+ followers have also increased.
With CathNews visitors regularly reading around 6,000 news articles a week, Fr Murphy also attributes CathNews increased popularity to the charismatic, simple and direct messages of Pope Francis.
World news editor at CathNews, Mr Pat McCarthy agrees, "Whether he knows it or not, Pope Francis' is a natural for the Twitter age, and is a great help in re-telling good news.
"Phrases from his homilies such as, 'Eternity will not be boring', 'Long faces cannot proclaim Jesus' and 'War is madness; it is the suicide of humanity,' are of interest to people," he says.
Fr Murphy admits to be embarrassed finding the CathNews website unable to handle the all the traffic when it Pope Francis was announce as the new pope.
"We wrote a story last year on Cardinal Bergoglio chastising his priests for not baptising the babies of unwed mothers and CathNews couldn't cope with the thousands of people visiting at the one time.
"We've fixed that," he said.
Fr Murphy also attributes CathNews popularity to a loyal readership and people who are willing to share their faith.
"We've not advertised anywhere, and we owe a lot to our loyal readers who invite others to get CathNews."
"A big thanks to them," he said.