Representatives from Marist Asia Pacific met to share resources, discuss issues and learn about some of the possibilities that Social Media presents in vocation recruitment. The meeting, held in Sydney this last week was the initiative of the major superiors from Australia, New Zealand, Oceania and the Philippines.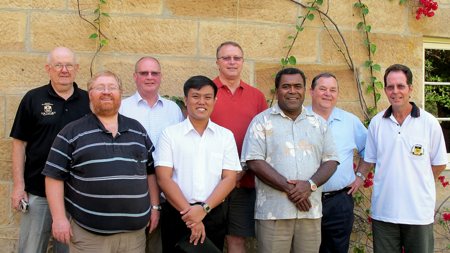 Combined initiatives include
establishing and testing online mechanisms to share vocations resources in an ongoing basis,
the development of a web site targeting school students and the "serious inquirer",
participation in an online forum for Marist Asia Pacific Vocations personnel,
the consideration of the possibilities and implications of social networking and vocations recruitment,
possible involvement with Marist Europe in an activity around the time of World Youth Day 2011.
The delegates were also pleased to be involved in the inaugural Australian Province's "Year of Vocations" initiative.
The meeting reinforced the vital importance the Internet was as a mechanism to give possible vocations recruits the opportunity to capture the flavour of the Australian, New Zealand, Oceanian and Philippine Marist mission and encouraged each of the "Units" to do what they can to best reflect and communicate about the mission of the Society in the Marist Asia Pacific region of the world.
Participants at the Vocations meeting were: Frs Bob Barber, Ron Nissen and Tony Kennedy from Australia, John Murphy and Pat Brophy from New Zealand, Lauro Arcede from the Philippines, Milio Vakasirovoka and Ben McKenna from Oceania. Pat Brophy was elected the co-ordinator and one of his tasks will be to bring together the next meeting, which is to be held in the Philippines.
Later in the week another meeting was held dedicated to ongoing formation issues followed the vocations workshop, for which Fr Tim Duckworth (NZ) joined the group.