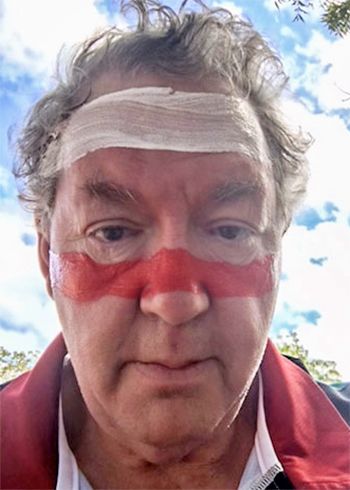 Australian Marist priest, Fr Pius Jones has been adopted by the Garrawurra people.
"A very special few days" is how he describes his adoption and then attending the funeral of a Garrawurra elder.
The funeral ceremony at Dhumbala, for his adoptive father, was something to behold, Pius Jones wrote to Australian Provincial, Fr Bob Barber SM.
"I sat with the Wawas (brothers) for the ceremonies. Just incredible in their richness and symbolism."
Pius Jones says it is amazing that all the people there can tell him how he is related to them.
"The most touching part for me was when they called me over to paint me.
"My clan is Garrawurra and they are equal holders of the law/lore of the Yolungu nations. So I was painted on the face as one of the Garrawurra family", he wrote.
His legs killing him from sitting cross legged all day, Fr Jones says "The enormity of respect they showed me was humbling."