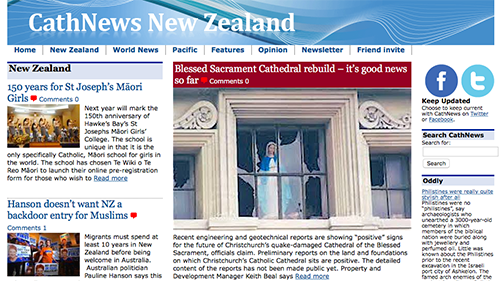 CathNews New Zealand and CathNews Pacific report news about the Catholic Church and subjects of interest to the Church primarily in New Zealand and the Pacific, but also the world.
CathNews should be seen as an expression of the Pastoral Constitution of the Church in the Modern World, paragraph one:
"The joys and the hopes, the griefs and the anxieties of the people of this age, especially those who are poor or in any way afflicted, these are the joys and hopes, the griefs and anxieties of the followers of Christ. Indeed, nothing genuinely human fails to raise an echo in their hearts. For theirs is a community composed of human beings. United in Christ, they are led by the Holy Spirit in their journey to the Kingdom of their Father and they have welcomed the news of salvation which is meant for every person. That is why this community realizes that it is truly linked with humanity and its history by the deepest of bonds."
News is delivered twice-weekly via a free email newsletter, Twitter, Facebook and an RSS feed. The focus of CathNews' interest includes:
Education
Economics, Tax, Banks, Financial Institutions, Infrastructure, Mining
Immigration
Child Care, Child Abuse
Family
Poverty, Substance Abuse, Unemployment
Human Rights, Religious Freedom
Ecumenism, other religions and religious tolerance
Race Relations, Treaty Settlements, Maori Party, Tinorangatiratanga
Church: Reform, Liturgy, Priesthood, Bishops, Theology, New Religious Movements, Church Attendance
Primary Industries e.g. Fisheries, Agriculture
Defense, Foreign Relations, Emergency aid, Foreign Aid
Science/Medicine: Reproductive technology Genetic Manipulation, Stem cells, Euthanasia, Climate Change, Energy
Information Technology, Nano Technology, Bio-technology
Inter-Church relations
The relationship between Society and the Church.
New Zealand
Pacific
World News
Opinions
Features
CathNews New Zealand and CathNews Pacific was launched in New Zealand in 2011. Its editorial headquarters are in Wellington, New Zealand. It is a product of the Society of Mary's Church Resources Ltd, New Zealand, which is governed by an active Board and managed by a General Manager.
CathNews was developed by the Marist Internet Project. It is complied twice-weekly by the Marist Fathers and all labour is voluntary labour.