Domus Australia, formally named Via Cernia when owned by the Society of Mary, is a great place to "throw another steak on the barbie" according to Australia's Minister of Foreign Affairs, and former Prime Minister, Kevin Rudd.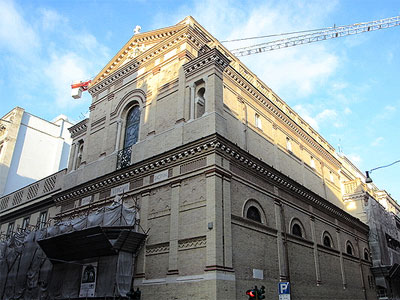 Mr Rudd was speaking during a VIP site inspection of the new centre.
He was interested to learn the site was previously owned by the Marist Fathers. "I was educated by the Marist Brothers for two years at Ashgrove and the Marist Fathers were our spiritual directors … so it's good to know that we have a strong Australian connection with them here," he said.
"Pilgrimages offer an enormous opportunity for reflection and it is good when going through these moments at day's end there is a place you can call home … and this is why Domus Australia is such a good idea."
"We think the Catholic Church of Australia is doing a fantastic thing here in Rome."
The Archbishop of Sydney, Cardinal George Pell, who purchased the property from the Italian province of the Society of Mary, used the occasion to show the progress of the project to other major stakeholders, Archbishop Denis Hart of Melbourne, Archbishop Bede Hickey from Perth and Bishop Geoffrey Jarrett of Lismore.
The visitors were introduced to the architect of the project, Santiago Hernandez. His work has involved extensive renovation to the building which dates to the 19th century. Excavation has revealed ancients foundations which have been preserved.
Related Links: